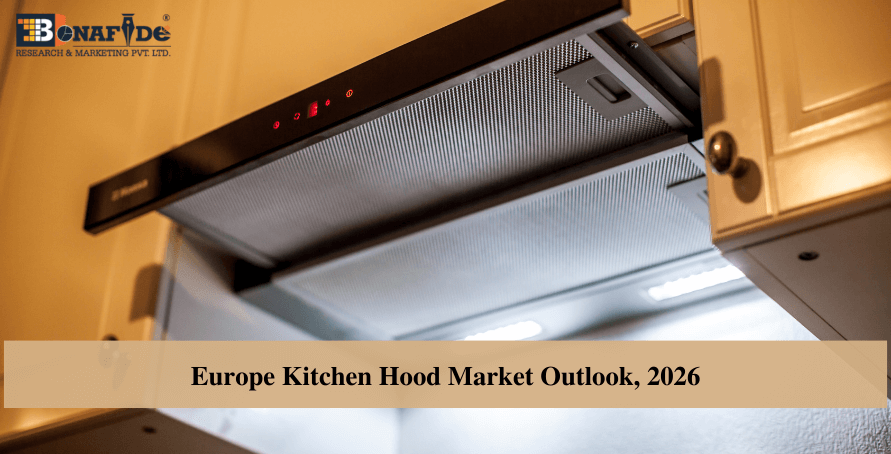 Kitchen Hood is a kitchen appliance to purify the kitchen environment containing a mechanical fan that hangs above the stove. It removes airborne grease, combustion products, fumes, smoke, odors, heat, and steam from the air by evacuation of the air and filtration. The concentration degree of the Kitchen Hood industry is not high. There are more than hundreds of manufacturers in the world, and high-end products mainly from Germany, Italy, and China. On the developed market, like Germany and France, Italy is the empire. However, the manufacturing parts are highly imported from China. The Europe Kitchen Hood Market Outlook, 2026 report by Bonafide Research analyses market size and forecast of the market by product, country, and sales channel. In addition, this report introduces the market competition situation among the vendors and company profile, besides, market price analysis and value chain features are covered in this report. Italy has a long history and unshakable status in this industry, like Elica and Faber; though it is a part of FRANKE now, both have the perfect design. As to Germany, the Bosch Group has become a global leader, which has two main brands- Bosch and Siemens, and several special brands, such as Thermador. The European kitchen hood market is much likely to grow over a growth rate of 4% through the forecasted period.
The demand for wall mount range hood systems is increasing significantly owing to their ability to clean lingering smells or smoke in kitchens. Additionally, these systems are available in customized shapes and sizes, creating a huge demand in applications. The under cabinet segment is likely to still dominate the market, with an expected lower CAGR and a market value of USD 1.2 Billion by the end of the forecasted period. The presence of a large number of companies who are offering various efficient models that are technically equipped with features such as automatic control, internet connectivity, high energy efficient feature, etc., are driving the demand for kitchen hood in the market. Ceiling kitchen hoods are majorly designed for modular kitchens where a stove or nob is installed in the middle of the kitchen, allowing multiple people to cook together. These systems are available in a variety of shapes, colors, sizes, and materials, gaining high popularity in modern kitchen setups.
The transition to more innovative and energy-efficient and technologically upgraded appliances is the major driving force behind the growth of the kitchen hood market in Europe. Owing to the ongoing COVID-19 pandemic the market has been under pressure restricting the construction of housing projects. The online sales channel is likely to grow with an anticipated growth of 9.53%, while the offline market would be still dominating with a market share of 86%. Key players operating in the range hood market include Broan, Inc., Asko Appliances, BSH Group, Elica S.p.A., Faber S.p.A, KOBE Range Hoods, and others. Prominent strategies adopted by range hood market players include geographic expansion to cater to unserved markets. Companies are also emphasizing new product launches to accelerate their business growth.