Pest control is the act of limiting or eliminating unwelcome insects and other pests from areas used by people.Particularly animals that harm forests, cattle, crops, or humans, especially in their dwellings, are referred to as "pests" in this context. When other species' actions have a negative influence on human goals, humans are intolerant of their existing in the same location as them. Humans have altered the environment for their own interests. As a result, while an elephant is OK in its native habitat, it becomes a problem when it tramples crops.Insects, termites, rodents, animals, scorpions, bees & wasps, ants, spiders, and other pests are a few of the pests that impact people in different regions. Caterpillars, grasshoppers, and locusts are pests that cause harm to crops because they consume their leaves, seeds, and fruits. When locusts create large plagues of several million, they may significantly harm harvests and trigger famine situations. The major risks to these insects include pesticide and fertiliser pollution, as well as intensive agriculture. People require more food and room as they get larger.

Rats, mice, and other rodents all influence humans. Hantavirus, lymphocytic choriomeningitis, the plague, salmonella, rat bite fever, and tularmia are a few of the viruses that can cause illness. Among the most deadly bug infestations that a home might experience are termites. Unlike some other forms of pests, they won't sting, bite, contaminate food source, or spread illness. Termites, however, pose a threat to the house's structural integrity. Therefore it has become important for people to do keep this pest away from places they don't like. Along with rising global commerce, climate change is one of the factors contributing to the spread of pests and illnesses. Pest population size, survival rate, and geographic dispersion can all be impacted by climate change, as can disease intensity, development, and geographic dissemination.Some pests, such as Tephritid fruit flies (which harm fruit and other crops) and autumn armyworm (which feeds on a growing range of crops, including maize, sorghum, and millet), have already expanded as a result of the warmer environment. The most damaging migratory pest in the world, the desert locust, is among those whose migration patterns and geographic distribution are predicted to shift as a result of climate change.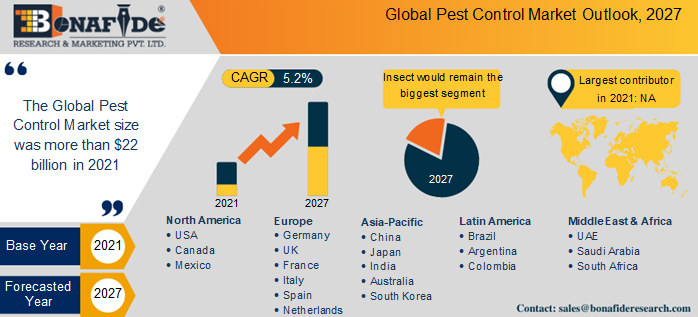 According to the report title "Global Pest Control Market Outlook, 2027"published by Bonafide Research, The global pest control market size was more than USD 30 Billion in 2021. From that, the insect segment dominated the market share in 2021 and continues to dominate the market in the forecast period of 2022 to 2027 with more than 5% CAGR. Mechanical method, biological method and other controls method. Living organisms are used in biological pest management to aid in the eradication of the infestation. This can include infections, parasites, or predators. The absence of hazardous chemicals is one of the main benefits of using natural remedies. As a consequence, neither the environment nor people are harmed by this technique. Furthermore, pests don't develop a resistance to the management method over time. However, because they often take time to function, most biological techniques are only practical for minor pest incursions like insects or plants.

Pesticides are used in chemical pest management to eradicate dangerous insects and organisms. Compared to biological approaches, these treatments are often simpler to locate and use. Additionally, most chemicals deliver quicker results—if not immediate ones—after application. Examples include insecticides, which are compounds created to kill insects, and repellents, which are treatments that keep pests from flying or crawling inside your perimeter. Even though they have numerous benefits, these poisons can be harmful to your health and the environment if you are exposed to them, although most contemporary chemicals only have short-term impacts.The use of other creatures to manage pests including insects, mites, weeds, and plant diseases is known as biological control or bio-control. Predation, parasitism, herbivore, or other natural processes are used, although often active human management is also present.

The pest control used in various applications includes residential, commercial, Agriculture, residential and other applications. It is expected to have high market size for other applications in the future. Because of the growth in the pest control used the demand for pest is increasing. The mechanical method which is used and to control are hoeing weeds, saturating leaves with water to physically remove insects, setting traps or constructing barriers to keep pests out. Using biological methods it helps in using healthy creatures like insects that consume or parasitize other insects. Ticks, bedbugs, and termites, which are common domestic pests in homes, are less likely to infest commercial buildings. Rats and cockroaches frequently assault businesses since these establishments are frequently next to abandoned buildings, landfills, food processing facilities, industrial settings, outside entrances, etc.Depending on the size, location, and kind of the firm, commercial pest control operations must be carried out. For the greatest pest control, innovation and sensing technologies will be used.Comparing commercial pest control to domestic services, the methods used are typically more inventive and comprehensive. The vastness of the premise necessitates a range of unified pest management strategies in order to provide the best pest control services.Pest infestations on a farm may have an impact on the infrastructure of the buildings as well as the production of the cattle. Monitoring and management of the pest population are crucial for improving the production of cattle.

Some of the driving factors which is increasing the market share and market size are, expanding as a result of rising economic activity, population expansion, the effects of insects, and pest intolerance. Climate change is contributing to the rise in demand for pest management services globally. Customers in the market are anticipated to be more inclined toward pest control services and precautionary measures to limit any harm in order to avoid the worst-case scenario.In order to get a foothold in the established market, businesses are using cutting-edge technology solutions to improve service efficiency. Just a few examples include online sales, route optimization, the use of pest-spotting smartphone applications, wireless communications technology to offer on-the-spot technical support, and smarter extranets to give clients access to more management data.The Global pest control market is growing as a result of the increased focus on the usage of biocides. They are being used to replace traditional pesticides more frequently since they are more environmentally friendly. For instance, Rentokil has submitted a registration request to the European Union for the use of CO2 as a rodenticide. The organization's current priorities still include rodent and insect management. Some of the major players for Pest control method are: Sumitomo Chemical Co. Ltd., JT Eaton & Co. Inc., Bell Laboratories Inc., The Terminix International Company, V3 Smart Technologies and Rentokil Initial plc.

Covid-19 Impact:
In order to deliver safe goods and services, stop disease outbreaks, and lower the chance of downtime, vital enterprises and organisations depend on pest control. When the coronavirus lockdown limitations are relaxed, the restoration of a building to normal usage will be delayed by pest infestations. Utilizing pest control services at this time will enable you to keep an eye on infestations, deal with them immediately, and drastically save expenditures.

Considered in this report
• Geography: Global
• Historic Year: 2016
• Base year: 2021
• Estimated year: 2022
• Forecast year: 2027

Aspects covered in this report
• Global Pest Control Market with its value and forecast along with its segments
• Region & country wise Pest Control market analysis
• Application wise Pest Control distribution
• Various drivers and challenges
• On-going trends and developments
• Top profiled companies
• Strategic recommendation

Regions covered in the report
• North America (US, Canada, Mexico)
• Europe (Germany, UK, France, Italy, Spain, Netherlands)
• Asia-Pacific (China, Japan, India, Australia, South Korea)
• Latin America (Brazil, Argentina, Colombia)
• Middle-East & Africa (UAE, Saudi Arabia, South Africa)

Based on type of pest in the report:
• Insect (Cockroaches, Ants, Bed bugs, Mosquitoes, Flies, Ticks, Crickets, Moths, Bettles etc.)
• Termites
• Rodents
• Wildlife
• Others

Based on application type in the report:
• Commercial
• Residential
• Agriculture
• Industrial
• Others

Based on control method typein the report:
• Chemical
• Mechanical
• Biological
• Others

The approach of the report:
This report consists of a combined approach of primary as well as secondary research. Initially, secondary research was used to get an understanding of the market and listing out the companies that are present in the market. The secondary research consists of third-party sources such as press releases, annual report of companies, analysing the government generated reports and databases. After gathering the data from secondary sources primary research was conducted by making telephonic interviews with the leading players about how the market is functioning and then conducted trade calls with dealers and distributors of the market. Post this we have started doing primary calls to consumers by equally segmenting consumers in regional aspects, tier aspects, age group, and gender. Once we have primary data with us we have started verifying the details obtained from secondary sources.

Intended audience
This report can be useful to industry consultants, manufacturers, suppliers, associations & organizations related to agriculture industry, healthcare industry, hygiene industry, government bodies and other stakeholders to align their market-centric strategies. In addition to marketing & presentations, it will also increase competitive knowledge about the industry.