A skater utilizes a skateboard, which is a piece of wood or composite material mounted to two pairs of axles with a total of four wheels, to get around or do tricks. Skateboarding uses your feet to propel it, but there are also electronic skateboards that don't need to be kicked or pumped. Since its invention in the 1940s, skateboarding has increased in popularity. Since that time, skateboarders from all over the world have traveled to take part in some of the greatest skateboarding tournaments. People from all around the world may now connect, compete, and engage while participating in their favorite sport. Extreme sports are likely to continue to be popular, while skateboarding's popularity as a recreational activity is expected to expand.

According to the report titled, "Global Skateboard Market Outlook, 2028", published by Bonafide research, the market was valued at USD 4511.22 Million in 2022 and it is anticipated to grow with a CAGR of 5.32% from 2023 to 2028. Skateboarding is a popular youth sport and amusement in which a rider balances them while standing on a tiny board with wheels. Skateboarding is one of the so-called extreme sports, and it has a variety of competitions, including vertical and street-style ones. Aerial acrobatics are practiced in half-pipes that were originally created to mimic empty swimming pools in vertical skating, often known as "vert." Tricks done in a real or simulated urban setting including stairs, rails, ledges, and other obstacles are referred to as street style. Skateboarding has grown into a teenage subculture that values originality and ingenuity. It serves as a substitute for traditional team sports, which are more officially structured and predominately managed by adults. Different designs of skateboard decks have been developed and improved as skateboarding has progressed. Each of them was created to meet the requirements of various riding scenarios, such as tricking, cruising down the street, falling into a bowl or half-pipe, or accelerating down a hill. Based on product type, the market is segmented into street skateboards, cruiser skateboards, long skateboards, electric skateboards, and other skateboards. The Electric skateboard category is leading the market with more than 40% of the market share which is expected to grow with more than 6% CAGR during the forecast period. With a huge influx of new riders, the majority of market participants in the skateboarding space have introduced electric skateboards. Without remote control, any required motion can be made thanks to user tilt sensing technology.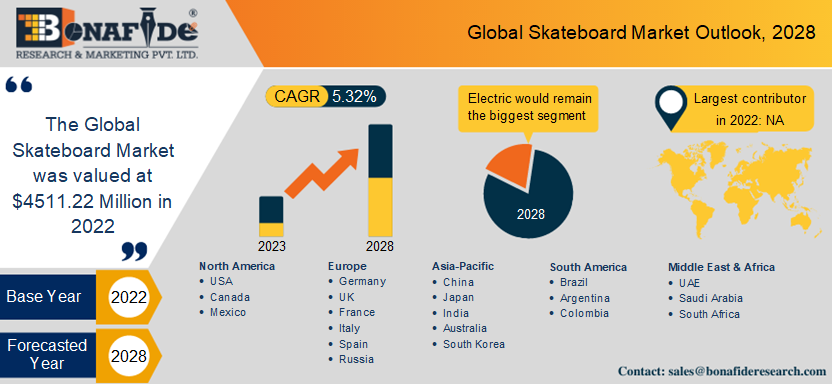 The electric skateboard is now a smart vehicle with the ability to detect movements. Electric skateboards with connected capabilities like Bluetooth, Wi-Fi, and infrared connections are becoming more popular on the international scene. Governments are putting more and more emphasis on making their cities smarter, therefore they are looking for practical transportation options that may reduce traffic and improve the environment for everyone in the neighborhood. Only a small number of countries currently permit the use of electric skateboards on public roadways. Legalizing these electric skateboards will significantly reduce the number of vehicles on the road, improve air quality, improve community mental health, and foster an environment that is "forward-thinking." Children and teenagers continue to get injuries from skateboarding on a regular basis. This factor of accidents is expected to restrain the growth of the skateboard market. To gain a comprehensive understanding of the incidence and causes of injury, as well as to better identify risk factors and effective injury prevention strategies, additional research utilizing more rigorous study designs is needed. At the same time, skateboarding involvement should be encouraged.

Skateboarding is becoming more and more popular worldwide among people of all ages. People of different ages and backgrounds enjoy skateboarding. Even though teens make up the majority of skaters, every well-known skatepark will have a varied crowd of visitors. The majority of skateboarders are likewise young people, generally under 18. In other words, more than 10 million of the more than 80 million young people in the US are skaters. Based on end-user, the market is segmented into kids, teenagers, and adults. The Teenagers segment is leading the market with more than 40% market share. Based on the distribution channel, the market is segmented into offline and online. The offline segment is leading the market, but, the online segment is likely to propel with a higher growth rate in forecast periods.

Based on region, the skateboard market is segmented into five major regions i.e., North America, Europe, Asia-Pacific, South America, and Middle East & Africa. The North American region is dominating the market in 2022. The USA has a major contribution to the North American region and in the global market. According to the findings, in 2020, more than 50% of Americans ages 6 and over participated in outdoor recreation at least once, the highest participation rate on record. In 2017, reports reveal that there were more than 85 million skateboarders globally, of which more than 7 million skateboarders were riding in the United States. Asia Pacific has been showing growth in the market in upcoming years as it has the majority of the population of the world. Asia Pacific is anticipated to register a higher CAGR over the forecast period on account of increasing awareness of outdoor sports activities.

Statistics indicate a significant growth in the popularity of skateboarding since the pandemic's start, according to the research. Skateboarding has developed into an ideal activity since it can be safely done alone or with a small group of pals as social distance has been maintained in many parts of the world. Many people admire the program that includes skateboarding for the first time in the Olympics. Skateboarding not only displays one's individuality and technical prowess, but it also relieves stress. According to studies, skateboarding significantly decreased psychological stress and boosted self-confidence during the COVID-19 era. A record-high number of skateboarders participated, which aided in the growth of the sport.

Recent Development


In June 2021, Evolve Skateboards announced that it had raised $2 million in a Series A round of funding led by BrandProject, with participation from Mark Cuban, Founder Collective, and other notable investors. This injection of capital will help the company scale its operations and continue to grow its market share.
In July 2021, Top street skateboarder and upcoming Olympian Nyjah Huston famously ride his own custom-shaped board, originally created by Huston and imaginary board smith Paul Schmitt. For years, skateboarders have asked Huston how they can get their hands on Huston's favorite board shape—and now, with the launch of Huston's own brand, Complaint Skateboards, they finally can.
In December 2020, Evolve Skateboards, has pronounced the official launch of the Hadean Series. Hadean will suggest four times more performance than its predecessor the GTR series which was launched in 2020 with a battery capacity with a top speed of 31mph, making it the most forward-thinking electric skateboard ever produced.
In 2020, skateboarding will make its Olympic debut in Tokyo. Skateboarding has become a street culture that grabs the attention of audiences around the world thanks to the athletes' exceptional skateboarding abilities in competition settings. The Street and Park course designs are featured in this Olympics' skateboarding competitions. Based on skill difficulty, height, speed, creativity, execution, and movement composition, the final score is calculated. Professional practice facilities are necessary for the development and training of athletes, but the construction of a skate park takes up a lot of room and money. As a result, the quantity and quality of skateboarding practice areas in the city have emerged as crucial factors in player development.
Major Companies present in the market:
Bureo, Element Skateboards, Skate One, Absolute Board Co, Razor USA LLC., Alien Workshop, Zero Skateboards, Boosted Inc., Artprint, Sk8factory, Almost Skateboards, Absolute Board, Carver Skateboards, Blind Skateboards, Mormaii, Trouble skateboards, Krown Skateboards, Exway, Control Skateboards Inc, Plan B, Evolve Skateboards, Longboarding SA

Considered in this report
• Geography: Global
• Historic year: 2017
• Base year: 2022
• Estimated year: 2023
• Forecast year: 2028

Aspects covered in this report
• Global skateboard market with its value and forecast along with its segments
• Region-wise skateboard market analysis
• Various drivers and challenges
• On-going trends and developments
• Top profiled companies
• Strategic recommendation

Regions covered in the report:
• North America (United States, Canada, Mexico)
• Europe (Germany, United Kingdom, France, Spain, Italy, Russia)
• Asia-Pacific (China, Japan, India, Australia, South Korea)
• South America (Brazil, Argentina, Colombia)
• Middle East & Africa (UAE, Saudi Arabia, South Africa)

By Product:
• Street Skateboard
• Cruiser Skateboard
• Long Skateboard
• Electric Skateboard
• Others Skateboard

By End-User:
• Kids
• Teenagers
• Adults

By Distribution Channel:
• Offline
• Online
The approach of the report:
This report consists of a combined approach of primary as well as secondary research. Initially, secondary research was used to get an understanding of the market and list out the companies that are present in the market. The secondary research consists of third-party sources such as press releases, annual reports of companies, and analyzing government-generated reports and databases. After gathering the data from secondary sources primary research was conducted by making telephonic interviews with the leading players about how the market is functioning and then conducting trade calls with dealers and distributors of the market. Post this we have started doing primary calls to consumers by equally segmenting consumers into regional aspects, tier aspects, age groups, and gender. Once we have primary data with us we started verifying the details obtained from secondary sources.

Intended audience:
This report can be useful to industry consultants, manufacturers, suppliers, associations & organizations related to the skateboard industry, government bodies, and other stakeholders to align their market-centric strategies. In addition to marketing & presentations, it will also increase competitive knowledge about the industry.