Induction cooktops, often known as induction hobs, use induction technology to generate an electromagnetic field and transfer heat directly to the bottom of a metal pot. These ferrous metal vessels must be composed of cast iron or steel. Instead of heating the bottom of the cooking vessel with a flame or an electric heating element, the cooking pan or vessel is heated by a magnetic field. Induction cooktops allow precise and near-instantaneous temperature control, as opposed to regular electric cooktops, which are slower to respond to temperature changes. Furthermore, since disposable income has increased globally, people are buying several homes or having multiple kitchens in larger homes. This will help the market develop in countries like India; LPG rates have been steadily rising, affected by international prices and the value of the rupee against the dollar.

According to the research report, "Global Induction Cooktop Market Outlook, 2028," published by Bonafide Research, the market is anticipated to reach USD 35.91 Billion, increasing from USD 22.40 Billion in 2022 and registering a CAGR of 8.34%. One of the most appealing qualities of induction cooktops is their energy economy. When compared to electric and gas cooktops, induction cooktops are one of the most energy-efficient appliances since the energy consumed is transferred to the food. Buyers will enjoy that these cooktops consume less energy, which is healthier for the environment and may potentially reduce power bills. And, when it comes to residences, more potential buyers are putting energy efficiency at the top of their wish list, with buyers finding it a highly desired feature. As a result, changing LPG stoves to induction stoves could be one of the policy solutions employed by governments around the world to achieve energy sustainability and reduce carbon emissions. Several technological improvements, such as kitchen appliance manufacturers replacing antiquated mechanical controls and displays with touch technology to minimise dependability and after-sale costs, will drive market expansion. Touch screens with huge images are also gaining popularity. Consumers are projected to acquire technology-driven kitchen devices due to constantly changing work and family routines, greater need for eco-friendly products, and more inexpensive electricity accessibility.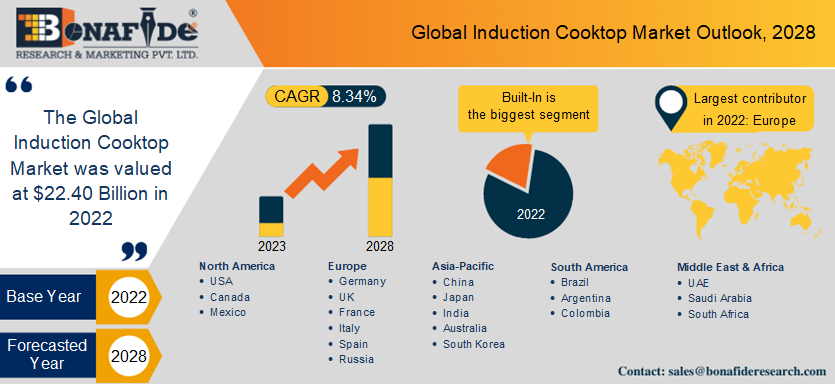 The increasing demand for induction cooktops for home cooking is one of the primary reasons driving the growth of the worldwide induction cooktops market. According to a study of 1,005 people published in the Brazilian Journal of Nutrition, more than half of the participants said they cooked more frequently after the pandemic than before; 50% said they felt more confident in the kitchen, 73% said they enjoyed cooking, and 51% said they planned to continue cooking at home after the pandemic. Induction cooktops are also growing in popularity due to rising energy consumption and cheap operating costs. According to the IOP Conference Series Materials Science and Engineering, for example, electrical energy already dominates home energy demand, which is anticipated to increase about 50% by 2050. Induction stoves (74.03%), normal electric stoves (56.29%), and LPG stoves (38.55%) were tested for energy efficiency. Induction cooktops were discovered to be handier and energy efficient. Induction stoves use less energy and cost less to operate than typical electric and LPG burners. The induction stove exceeds the competitors even in terms of carbon emissions.
On the basis of product type, the market has been segmented into built-in and free-standing. In terms of value, the built-in product segment is leading the market with a share of 52.91% in 2022. The market is being driven by an increase in the number of residential and commercial development projects. Because of the technology's intrinsic benefits, more chefs and manufacturers are marketing induction to building professionals and consumers. Induction technology is more efficient than traditional electric and gas-powered technology. The contents of the heated pots and pans are heated efficiently through conduction and convection.

The market has been divided into two segments based on application: residential and commercial. In 2022, the household sector led the global market with a revenue share of more than 63%. With a number of new home development projects underway, demand for induction cooktops is projected to increase. In the past, the steady transition away from gas cooktops benefited the market, and an increasing number of consumers are interested in installing induction cooktops in their homes or large-scale residential projects. This is owing to increased understanding of its advantages over gas cooktops. Over the projected period, the commercial category is expected to grow faster, with a CAGR of 9.10%. Non-residential structures, such as restaurants or hotels, also make extensive use of induction cooktops.

In terms of Distribution Channel, the specialty retailers segment had the highest revenue share of more than 61% in 2022. From 2023 to 2028, the online category is predicted to grow at the fastest CAGR rate of 12%. The global household induction cooktops market is expanding due to developments in internet marketing and an increase in the usage of digital media for product promotion. Increased acceptance of technologically innovative and high-tech items is likely to fuel the rise of kitchen appliance e-commerce websites, propelling the domestic induction cooktop market.

Europe was the largest regional market in 2022, accounting for more than 33% of total revenue. Asia Pacific, on the other hand, is expected to have the highest CAGR of 9.89% from 2023 to 2028. Growing urbanization and higher consumer buying power in Asia Pacific are expected to drive market expansion. The presence of global consumer induction cooktop producers in the region further aids market expansion. Furthermore, changing lifestyles and increased preferences for modern appliances contribute to market growth.

However, the setup cost of induction cooktops and price variability throughout the market may stymie market expansion. Despite this, advanced features such as improved energy efficiency, compact designs, and effective safety management, as well as the creation of unique and less priced induction cooktops, may create new opportunities for the worldwide induction cooktops market to grow further.

Recent Development: In September 2021, Samsung launched the 30" Smart Induction Built-in Cooktop with Wi-Fi. The product will help families prepare meals of any size by offering faster, more precise cooking performance.

Covid-19 Impact:
The persisting COVID-19 pandemic had an impact on the global household induction cooktops market. Consumer electronics demand had been affected by the closure of firms and the cessation of economic activities. Furthermore, China, as one of the biggest manufacturers of electronic components and the hub of the viral spread, caused supply chain and international trade disruptions, limiting market development. However, with normalization of day-to-day operations of the key players with ease in rules & regulations set by governments of different countries is expected to boost the market during the forecast period.

Major Companies present in the market:
Electrolux AB, Robert Bosch GmbH, LG Electronics, Inc., Panasonic Corporation, Midea Group, Haier Smart Home Co. Ltd., Whirlpool Corporation, Koninklijke, Philips N.V., Samsung Electronics Co. Ltd, Miele, Sub-Zero Group, Inc., Bajaj Electricals Limited, Smeg S.p.A, TTK Prestige Ltd., The Vollrath Company, Somany Home Innovation Limited (SHIL), Faber S.p.A, Stovekraft , Menu System, Summit Appliance

Considered in this report
• Geography: Global
• Historic year: 2017
• Base year: 2022
• Estimated year: 2023
• Forecast year: 2028

Aspects covered in this report
• Global Induction Cooktop market with its value and forecast along with its segments
• Region-wise Induction Cooktop market analysis
• Various drivers and challenges
• On-going trends and developments
• Top profiled companies
• Strategic recommendation

Regions & Countries covered in the report:
• North America (United States, Canada, Mexico)
• Europe (Germany, United Kingdom, France, Spain, Italy, Russia)
• Asia-Pacific (China, Japan, India, Australia, South Korea)
• South America (Brazil, Argentina, Colombia)
• Middle-East & Africa (UAE, Saudi Arabia, South Africa)

By Product Type:
• Built-In
• Freestanding

By Application:
• Residential
• Commercial

By Distribution Channel:
• Specialty Store
• Hypermarkets & Supermarkets
• Online
?
The approach of the report:
This report consists of a combined approach of primary as well as secondary research. Initially, secondary research was used to get an understanding of the market and listing out the companies that are present in the market. The secondary research consists of third party sources such as press releases, annual report of companies, analysing the government generated reports and databases. After gathering the data from secondary sources primary research was conducted by making telephonic interviews with the leading players about how the market is functioning and then conducted trade calls with dealers and distributors of the market. Post this we have started doing primary calls to consumers by equally segmenting consumers in regional aspects, tier aspects, age group, and gender. Once we have primary data with us we have started verifying the details obtained from secondary sources.

Intended audience
This report can be useful to industry consultants, manufacturers, suppliers, associations & organizations related to Induction Cooktop industry, government bodies and other stakeholders to align their market-centric strategies. In addition to marketing & presentations, it will also increase competitive knowledge about the industry.