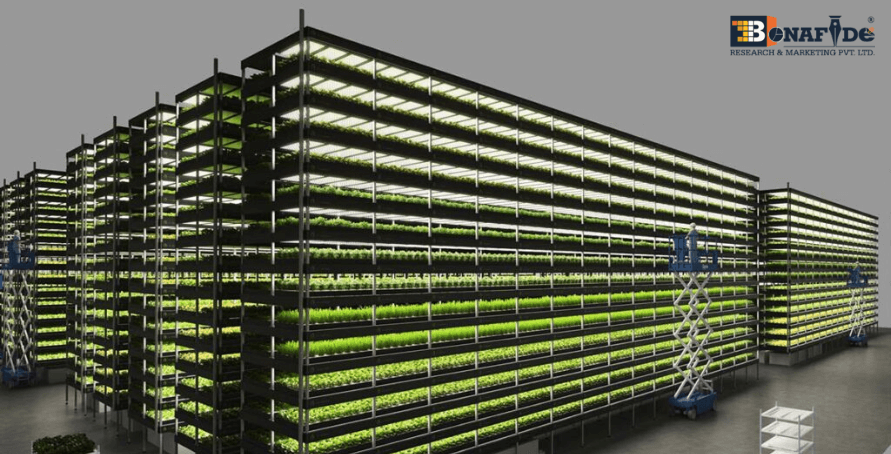 The name itself indicates that vertical farming is one type of agricultural farming in which the crops are grown in systematic and vertically align stacked layers, rather than growing them traditionally or in a horizontal way. Growing crops vertically saves space and results in a higher crop yield per square foot of land used. Vertical farms are typically found indoors, such as in a warehouse and old buildings where they can regulate the environmental conditions necessary for plants to thrive. Water covers over 70% of the globe, yet just 2.5% of it is fresh. Only 1% of freshwater is readily available, while agriculture consumes 70% of it globally. The factors like the temperature, fertigation-nutrient material, pH, humidity and lightning etc. are well-maintained 24/7 in vertical farming. That's why many farmers see vertical farming as having a lot in common with greenhouse farming.

According to the report title "Global Vertical Farming Market Outlook, 2027", published by Bonafide Research, the global vertical farming market size was valued at USD 4125 Million in 2021 and is expected to expand at a CAGR of more than 21.5% from 2022 to 2027. The increasing water scarcity and loss of arable land across the globe are the main drivers pushing the vertical farming market. This is because; the vertical farming method uses more than 90-95% less water & soil. Hence, the demand for organic food products is likely to boost the vertical farming technology in the forecast period. This farming method's main purpose is to maximize crop output in a small environment. Global food production is being revolutionized by vertical farming. However, when compared to conventional agriculture, the amount of chemicals utilized in vertical farming is substantially reduced. Traditional agriculture consumes more than 90% of the chemicals used in vertical farming. In vertical farming, crops are majorly grown indoors under an artificial setup of lighting and temperature control. Vertical farming technology significantly uses less pesticide compared to traditional farming. Being indoors, crops are not subject to seasons or any climate changes. Due to that, vertical farming gives high productivity year-round. Lettuces, tomatoes, and green crops can be commonly produced from the vertical farming process. Since vertical farming does not depend on weather, it allows farmers to achieve consistent annual crop production.

The vertical farming market is classified by growth mechanism into three types i.e. hydroponics, aeroponics & aquaponics. Hydroponics is the cultivation of plants in water (sand or gravel) with added nutrients but without the soil. The hydroponics market uses 95% less water and more than 90% less land and gives 100 times more crops produced as compared to traditional farming. The hydroponics market has more than half of the market share in terms of value. Aeroponics is the technique in which the plants are grown with suspended roots in the air and nutrients delivered in a fine mist form. The environment is kept free from outside contact or pest or any disease in order to grow more quickly and healthier plants. Aeroponics is the fastest-growing mechanism in the forecast period. Aquaponics is the addition of aquaculture and hydroponics systems. It is one type of re-circulating environment. The food is provided to the fish as an input factor. Then, the waste materials of the fish which are rich in ammonia are passed to the bio-filtration tank. The nitrifying bacteria convert into suitable forms by which plants can consume the nutrients and the rest clean water is reintroduced into the tank.

Based on the region, the vertical farming market is divided into North America, Asia-pacific, Europe, South America and Middle East & Africa. North America is the market leader in the vertical farming market in 2021. Bowery farming, AeroFarms, and Freight Farms like the top emerging players are located in the US. Arable land accounts for more than 25% of total land in North America. However, due to constant industrial development across the region, this ratio is projected to decrease. To overcome these threats, vertical farming can be an optimal option. The vertical farming market has gained significant momentum across the North American region. There has been a prominent rise in new manufacturers and start-ups offering innovative products at a competitive price. In addition to that, emerging businesses across the region are rapidly adopting enhancements in technologies such as artificial intelligence (AI), robotics, smart monitoring, and advanced sensors. For instance, Plenty Unlimited Inc. (a San Francisco agricultural-technical start-up) has constructed climate-controlled vertical farms with a higher investment of USD 400 Million. AI robots are used by the startup to control lighting, temperature, and watering for the plants. They also monitor growth patterns for the crops. The rising awareness pertaining to the benefits of vertical farming has emerged as the key industry across the North American market.

The USA is projected to lead the overall market during the forecast period. For the North American market, the USA accounts for more than 40% of market share in 2021; for the global market, the USA accounts for more than 10% of market share. The USA was one of the early adopters of vertical farming technology compared to other economies. The growing need for sustainable agriculture operations across the country that reduce adverse environmental impacts is expected to boost the market's growth. Research processes by the National Aeronautics and Space Administration (NASA) to grow plants in a closed environment have built the foundation for vertical farming technology across the country. The recent trend of the farm-to-table movement has promoted organic food production across the country. Many market players are implementing the higher R & D sectors into the vertical farming industry. Moreover, by 2023, a new building is soon to be constructed in Pennsylvania that will be the largest vertical farm in the world.

Due to increasing industrialization across the European region, many arable lands are at greater risk. This soilless farming technique has gained a lot of traction in Europe. Furthermore, because most crops are grown without the use of pesticides, it contributes to better public health over time; thus, consumers can expect zero-pesticide produce. In Europe, various plant factories are typically referred to as "vertical farms." Moreover, it is a young, dynamic, and ever-changing sector across the region. Europe has been at the forefront of implementing advanced technologies into the vertical farming industry. The European Union (EU) promotes alternative and sustainable agriculture practices. In 2018, the EU presented the proposal for the Common Agricultural Policy (CAP) reform that introduces a new way to modernize and simplify the EU's agriculture policy. Similarly, the EU has invested in long-term projects to promote urban agriculture across the region. In addition to that, an increase in new start-ups across the region has led to a rise in major investments.

For instance, Nordic Harvest A/S (Denmark) has established a huge 7000 m2 production plant consisting of rows of green salads and herbs that rise to 14 levels. This is considered to be the largest vertical farm in the European region. Further, vertical farming technology has gained a lot of momentum across the UK in recent years as vertical farms are being set up in various cities across the country. Furthermore, private and public funds are heavily invested in alternative farming in the United Kingdom, with the goal of promoting and integrating vertical farming into urban areas. Also, plans for a huge 32-acre site in West Calder, Scotland are now moving ahead. This facility is anticipated to produce around 30 Million plants each year, and it could be the largest vertical farm in the UK. On the other hand, a new multi-Million pound farm is being built in Lydney in Western England. This farm will offer 148,000 square feet of growing space. It will be approximately the same size as almost seventy tennis courts and able to supply 1000 tonnes plus of fresh products to thousands of UK superstores.

Further, Asia-Pacific is considered as one of the most lucrative markets the vertical farming. A growing population across the region directs the higher need for crops to feed them. In addition to that, the demand for vertical farming technology is expected to increase across the region into the foreseeable future due to an increasing concentration on organic food consumption. From the research, it has been found that Asia-Pacific consumes over 75% of all vegetables across the globe. Also, the Asia-Pacific is home to some of the largest vertical farms compared to other regions. Companies involved in vertical farming are investing and expanding their operations to other countries, which will, in turn, fuel the market's growth by 2027. The geographical opportunities for vertical farming across the region have created enhanced opportunities for this industry to grow exponentially. Also, the region aims to save water consumption in agricultural fields and to supply large amounts of pesticide-free food. Japan has been one of the early adopters of the vertical farming industry. Due to the aging population and rural migration across the country, vertical farming has found its way. According to the research, the number of vegetable vehicle farms or factories across the country has grown from 93 in 2011 to 390 in 2021.

In South America, the market is projected to expand as the consumer demand for organic foods is being complemented by rising disposable incomes and a growing population. For instance, AgroUrbana was the first vertical farm established in South America with its 3000 square foot pilot facility located in Santiago (Chile). Furthermore, South America is planning to replicate this farm on a larger scale (30,000 square feet). This new facility will allow AgroUrbana to increase its output by twentyfold and will fuel the higher market growth. AgroUrbana currently produces lettuce as a house mix. It will soon be launching kale and basil, and it has experimented with strawberry production.

On the other hand, due to the shortage of water and adverse climate conditions, the Middle East and Africa region is witnessing an increase in demand for adopting innovative and alternative agricultural processes in various developing economies across the region. Also, many companies are looking to capitalize on this factor by providing higher investments to their R&D departments. The emergence of new businesses and expanding collaborations with international and domestic enterprises has resulted in a significant increase in demand for innovative approaches to alternative farming practices. For instance, in Saudi Arabia, the Ministry of Environment, Water and Agriculture has allocated USD 27 Million to develop and localize vertical-farming technologies across the country. On the other hand, taking the UAE alone, the population is projected to reach 11.5 Million by 2025. This presents huge challenges to the economy and food security. However, the vertical farming industry is projected to be a booming sector across the region, which can overcome these challenges. Also, vertical farming initiatives across the region have been supported by local governments as they can allow various economies to target their sustainable approach to the environment.

According to the report, vertical farming is categorized into two parts by structure form. The building-based vertical farms are frequently housed in abandoned city buildings, such as Chicago's "The Plant" vertical farm, which was built in an old pork-packing plant. Vertical farms also use architectural construction, such as the new multi-storey vertical farm attached to an existing vehicle parking structure in downtown Jackson Hole, Wyoming. These vertical farms make use of 40-foot shipping containers, which are normally used to transport goods around the world. Several companies are converting shipping containers into self-contained vertical farms, complete with LED lights, drip irrigation systems, and vertically stacked shelves for starting and growing a wide range of plants. These self-contained units feature computer-controlled growth management systems that allow users to remotely monitor all systems from a smartphone or computer.

Vertical farming uses the components like LED lights for the important photosynthesis process. The HVAC system (heating, ventilation and cooling) is also installed in vertical farming. The atmosphere or environment must be well maintained every minute for better output. The sensors and other irrigation & fertigation systems are also crucial. The lighting segment has the highest market share among all components. The majorly produced crops in the vertical farming are lettuce, tomatoes, chili peppers, bell, herbs, strawberries, cucumbers and other leafy greens. The tomatoes are produced in a huge amount of quantity. One of the criteria is the time it takes for crops to fully mature, because some vegetables, such as lettuce and mint, grow quickly, whereas herbs and some fruiting crops take longer to mature but can have better returns than many other plants.

Key market players are involved in strategies such as partnerships, business expansions, new product developments, and contracts to expand their market share. The players are investing in R&D for product innovation and enhancement.

Some prominent players in the global vertical farming market include AeroFarms (U.S.), Illumitex, Inc. (U.S.), American Hydroponics (U.S.), Agrilution GmbH, Brightfarms Inc., Everlight Electronics Co., Ltd., Freight Farms, GrowUp Urban Farms Ltd., Green Sense Farms, LLC and Vertical Farm Systems. Some of the recent developments from these market players are listed below:
• In August 2021, Cargill Partnered with the vertical farming leader AeroFarms aiming to improve cocoa bean yields and develop more climate-resilient farming practices. Together, the two organizations will experiment with different indoor growing technologies, including aeroponics and hydroponics, light, carbon dioxide, irrigation, and nutrients, to identify the optimal conditions for cocoa tree growth.
• In August 2021, AeroFarms announced that it would expand to the Middle West region as part of a project with the World Wildlife Fund (WWF) and St. Louis Controlled Environment Agriculture Coalition (STLCEA) to demonstrate innovative strategies to minimize the environmental footprint of indoor vertical farming.
• In July 2021, Heliospectra AB, a world leader in intelligent lighting technology for vertical farming, announced a new seller partnership with MineARC Systems, a global leader in manufacturing and supplying controlled environments. The company will represent Heliospectra's market-leading LED lighting and lighting control solutions in the Australian market.
• In June 2021, Osram expanded its horticulture portfolio with the launch of Osconiq S 5050. It addresses a key problem of used white LEDs resulting in lower energy costs and more efficient lighting for indoor farmers.