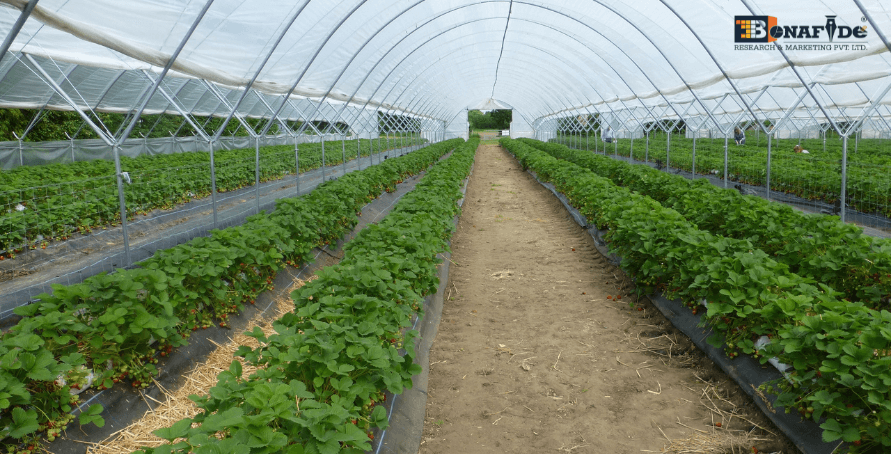 The commercial greenhouse is one of the methods for farming in protected areas. The crops are covered by semi-transparent or fully transparent materials. The soil is used as a base in greenhouse farming. The greenhouse structure is covered by various sustainable materials like glass, plastic, wood & aluminum greenhouses. The commercial greenhouse market is mostly driven by glass and plastic type greenhouses. The reasons behind that are so obvious and interesting. The original greenhouses were always made from glassy material because it looks classic and have the majestic radiance of glass greenhouses. On the other hand, the plastic greenhouses are sustainable as well as offer a budget-friendly option in several sizes and forms. Plastic greenhouses insulate more than 38% better compared to glass ones with a low risk of panel breaking. More insulation will provide a steady temperature and hence it will be beneficial for electricity costs. No matter which type of greenhouse cover is whether it is plastic or glass, both will transmit around 90% of the light from single-layer glazing and 80% from double-layer glazing. The glass greenhouses are a more durable material compared to plastic so their life expectancy will be more. However, the beautiful glass greenhouses are more expensive rather than plastic ones. Greenhouse farming is the agricultural practice of growing crops in sheltered structures covered by transparent materials such as glass, shade, screen or even crop top structures. Greenhouses get their name from the fact that these structures consist of house plants or greenery. Greenhouse farming allows farmers to increase their performance and yields while improving the quality of their products.

According to the report title "Global Commercial Greenhouse Market Outlook, 2027", published by Bonafide Research, The global commercial greenhouse market size is estimated at $ 36.8 Billion in 2022. The prime focus of greenhouses is to provide maximum growth conditions for crops while also protecting them from adverse weather and pests. Furthermore, some types of greenhouse farming (greenhouses with controlled heating) allow farmers to extend the growing season or even grow crops outside of the typical growing season. Light, ventilation, humidity, and temperature may all be managed in greenhouses. This enables the farmer to develop and maintain optimal micro-ecosystems for their plants, boosting strong, attractive, nutritious, and tasty plants. Greenhouses with extra features allow having complete control over crop production, resulting in faster growth and larger yields. Commercial greenhouse farmers today have access to a variety of technologies to ensure maximum productivity with the least amount of work.

The greenhouses are equipped with cooling and heating systems in order to get maximum and nutritious crop production. The meaning of a controlled environment is the control of factors like temperature, humidity, light, air composition and nature of the root medium. The developed cooling systems are to reduce the problem of excess heat in the greenhouse. There are numerous cooling systems such as fan-pad cooling, fog cooling, convection tube cooling, natural and forced ventilation etc. Vice-versa the heating systems are as important in (winter) cold weather duration. The most common and least expensive heating system is the unit heater system. The other heating systems are solar heating, radiation heating and central heating systems.

By component type, the commercial greenhouse has 3 segments. The greenhouse is containing low-tech, medium-tech and high-tech components. Among these, the high-tech greenhouses are dominating the market in 2021 and also in the forecast duration. The high-tech greenhouses are almost automated in controlling the environment. With the less use of pesticides, they provide generally splendid sight & globally are increasingly being involved in the agribusiness opportunities. On the other hand, low-tech greenhouses lack automated equipment and control environmental conditions. The medium-tech greenhouses are having semi-auto technologies and hence are required to be observed from certain time to time. The greenhouse crops produced are fruits, vegetables, flowers, bulb crops, nursery crops and ornamentals etc. The daily consumption of fruits and vegetables together held a market share of around 59% among all.

The European commercial greenhouse represents one of the most intensive energy sectors in agriculture and strongly contributes to increasing the energy and environmental vulnerability within regions having large greenhouse farming systems. Specifically, the European greenhouse farming sector is facing a trend that responds to the changing consumer's demands in a society that, globally, is increasingly prosperous. Europe has been the first to implement enhanced techniques in greenhouses, particularly in countries such as Spain, Italy, and the Netherlands, where large areas are under greenhouse cultivation. Because of urbanization, rapid technological advancements, and the high demand for fruits and vegetables, Europe is the largest player. Countries such as Russia are increasingly adopting greenhouse farming so as to implement sustainable farming in their country, thus augmenting the commercial greenhouse market's growth. In Europe, the largest greenhouse producing areas are Spain (46,000 hectares), Italy (25,000 hectares), France (9,500 hectares) and Greece (3,800 hectares).

For the North American region, rising populations and growing demand for food are creating greater opportunities for alternative farming methods. According to the United States population division, the global population has increased nearly fourfold in the past 100 years, and it is projected to reach 9.2 Billion by 2050. And every day, around 7.7 Billion people consume 14.5 Million tonnes of food. Also, a shortage of agricultural land across the region is also boosting the demand for greenhouse farming. From the obtained data, in 2018, only 25.62% of land was agricultural land in the North American region. In addition to that, the rising utilization of IoT, Big Data, and Analytics in commercial greenhouses is expected to further grow steadily across the forecast period by providing opportunities to the market. The rising demand for flowers and ornamentals is likely to create opportunities for the market. Further, owing to the increasing demand from consumers for a wide variety of year-round produce, it is anticipated to fuel the overall market growth. According to the United States Department of Agriculture (USDA), in 2019, the number of farms in the United States is estimated at 2023400.

According to the research, it has been estimated that there are more than 8,750 greenhouse vegetable farms present in the USA. Many projects and expansions occur under the radar, and the speed at which growers are scaling up, the market is expected to witness robust market growth during the forecast period. Also, Eastern Kentucky is now home to the largest greenhouse of its kind in North America. According to obtained data, the largest number of greenhouse vegetable growers/producers is located in the states of Pennsylvania (593), New York (435), California (427), Maine (386), and Michigan (341). Furthermore, in 2019, a US-based precision agriculture company introduced LUNA, an optical scanner system operated by inch, a US-based organization that constantly captures imagery in greenhouses and analyses visual data from growth cycles.

Further, Asia-Pacific is heavily based on the agriculture sector and poses an attractive base for the commercial greenhouse market. The constantly increasing population across the region and the constantly increasing demand for food has created higher demands for alternative farming methods. Asia-Pacific had nearly a 22% market share in the global commercial greenhouse market in 2021. As economies grow and people demand a higher standard of living, personal health and well-being have become a top priority for the Asia-Pacific region. Due to that, an increasing number of consumers are searching for fresh leafy vegetables that are free from pesticides and safe to eat raw. Greenhouse farming is aiming to be a viable option to meet these consumer demands. Various developing economies, such as India, Australia, Indonesia, and Singapore, are adapting greenhouse farming methods to enhance their agriculture sector. Furthermore, the growing agricultural sector in the region is further projected to augment this demand in the coming years.

China has the second highest market share in global commercial greenhouse market. China has more than 20 years of experience in the development of the greenhouse industry. There are a variety of crop cultivation technologies in China, ranging from low input to high-tech greenhouses. The area of greenhouses in China accounts for over 80% of the world's total greenhouse area at present. A greenhouse in Shandong with an area of 90,000 square meters, including 80,000 square meters for planting and 10,000 square meters for operation (with an investment of 210 Million yuan), is projected to be the most advanced greenhouse in China. The length of a tomato vine is more than 20 meters after a complete growing season. In addition to that, the new greenhouse of Kaisheng Haofeng is currently the largest single-site high-tech vegetable greenhouse operation with 26 hectares of production area in mainland China.

On the other hand, the growing adoption of organic agriculture among small farmers in South America is likely to enhance the regional market demand during the projected period. Small farms in South America often turn into really hi-tech ones. For example, they use greenhouses to grow lettuce and other hydroponic crops, which make it possible to use water and other resources more efficiently. In addition to that, South America is implementing artificial intelligence-based predictive analytics software. South America's agri-food systems are important globally. The region is the world's largest provider of ecosystem services, and it supplies an important share of the world's food supply.

In addition to that, the agriculture industry in the Middle East and Africa has changed rapidly over the years. This sector is entering a new revolution with higher advancements where the quality and productivity of crops will be the key factors driving higher demand across the region. Also, this sector is constantly aiming to reduce the area's dependence on imported food and sustainably grown fruits and vegetables. Due to severe weather conditions, arid climate, and unavailability of natural resources, most Middle East regions remain mostly dependent on imports to meet the population's food needs. The highly vulnerable fluctuations in international commodity markets, global food trade imbalances, and increasing risk of food security issues have created a necessity for the Middle East countries to become self-sufficient. The growing demand for fresh food in the Middle East region has helped create a scope for urban farming in this region. In addition to that, the major pivotal factors that are propelling the market's growth include the growing trend of rooftop farming coupled with the rising population. Adopting an innovation-driven approach to vertical farming could provide greater access to safe, nutritious, and affordable food; create thousands of jobs; abundant investment opportunities; and environmental gains. The government is investing heavily in public-private partnerships and collaborations for sustainable agricultural practices. Such initiatives are expected to fuel increased market growth in the Middle East and Africa commercial greenhouse market.

Some of the major players operating in the commercial greenhouse market are LOGIQS B.V., Richel Group, Argus Control Systems Ltd., Certhon, Lumigrow, Agra Tech, Inc, Rough Brothers, Inc., Nexus Corporation, Hort Americas, LLC, Heliospectra AB, DutchGreenhouses, Green Tek, Texas Greenhouse Company Inc., Poly-Tex, Inc., The Glasshouse Company Pty Ltd., Stuppy Greenhouse, Omni Structures International, Europrogress S.r.l. , Sotrafa, DeCloet Greenhouse Manufacturing Ltd., and Luiten Greenhouses, among others.