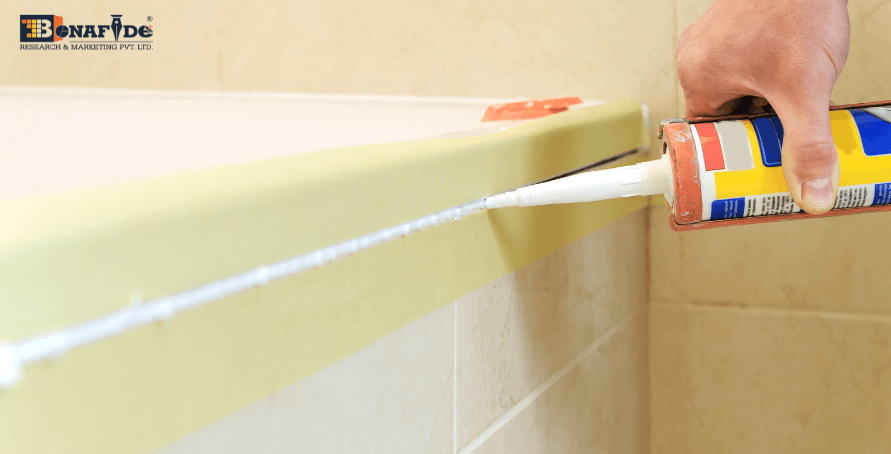 Adhesives & sealants bond two dissimilar substrates and are replacing the mechanical fasteners such as welds, screws, rivets, gaskets. This enables the product to be lightweight and compact. It has multiple applications and users demand for high quality, sustainable and eco-friendly products. Demand for low level VOC adhesives & sealants are higher as they are low on emissions, provide bonding across variable substrates. Governments have formed various policies to adhere to VOC norms. As a result of which water based adhesives are increasingly applied in various industries as they emit zero VOC. They are temperature and moisture resistant over a long period of time.
According to the research report "Global Adhesives & Sealants Market Outlook, 2027" by Bonafide Research, the adhesive & sealants market is expected to grow nearly 5% over the forecast period ending 2027. Adhesives have been more widely used by various industry manufacturers over a period of time with maximum market capture. On the other hand sealants are gaining traction in the market, with demands from the consumer DIY and construction industry. Hot melt adhesives are expected to grow exorbitantly at a forecast CAGR of 6.50% from the demand arising from the packaging industry. Water based adhesives are dominant with majority market hold and demands arising from the buildings & constructions industry and electronics, healthcare and automotive industry. Silicone sealants and polyurethane sealants together form over 50% market share driven mainly by the consumer DIY and buildings & constructions activities. Acrylic sealants are rapidly being adopted by industries given their peculiarities.
Automotive industry uses adhesives & sealants replacing the age old practises of soldering, welding and bolting to make vehicles lighter and quieter. Stringent regulations from the government with CO2 emissions from the vehicles are further bolstering the growth for the electric vehicles which in turn generates demand for adhesives & sealants. Adhesives help distribute the load bearing capacity of the vehicles evenly rather than local stress in the parts joined. An average size car utilizes approximately 15 Kg of adhesives and is likely to increase in future with innovations and research. OEM's main objective is to reduce the weight of components of the vehicles to extend their range. Ship building, aerospace manufacturing have also adopted adhesives & sealants to make light weight giants.
Electronics & electrical industry use adhesives & sealants to facilitate high precision and bonding and sealing solutions. Rapid innovation in this segment demands for miniature electronic products, advanced communication hardware's and sensors. Adhesives are mainly used in the assembly of circuits and products. They are used for wire tacking, binding surface mount substrates and encapsulating components. The rise of automobile sector further pushes the demand for electronic adhesives for collision avoidance system, engine status displays, power modules, anti-theft systems and LED packaging. The new solid state semiconductor technology is likely further boost the market for adhesives & sealants.
Hot melt adhesives find application in dashboard of vehicles, consumer DIY, packaging and nonwoven products. Application in dashboard reduces vibrations and increases insulation from sound. It has wide variety applications on ceramic, fabric, papers, cardboards, metal, and plastics. Asia Pacific is the second largest consumer and manufacturer of hot melts globally and also fastest growing market. Hot melts are increasingly replacing other adhesives technology in packaging industry. The only drawback of hot melts is it cannot be used on hard to bond substrates. Consumer DIY is quite popular in North America and Europe owing to high installation and labour costs. Hot glue guns that come with glue sticks are very common for DIY. Solvent recovery and incineration equipment, which are inevitable for solvent-based systems, are also eliminated from hot melt systems.
Acrylic sealants is the major driver for the global sealants market with wide spread applications in construction, healthcare, automotive. Acrylic sealants are increasingly being used as they are highly flexible material, crack resistant; provide smooth finish, odourless, non-toxic. They are moisture resistant; withstand extreme weather conditions and UV rays. In building & construction it is used to fill cracks, jointing, caulking which is compatible with different raw materials like stone, concrete, brick, wood, granite, metal, glass, tiles and sanitary ware. Key manufacturing companies are continuously innovating with research & development activities to gain a significant share in the market. The market is forecasted to grow during further given their tensile lap shear strength and good peel and adhesion to variety of layers such as aluminium and steel. However, demand for acrylic sealants is expected to be overshadowed by silicone sealants which have a longer lifespan and are more flexible.
Healthcare segment has over 12% share globally in adhesives & sealants market and one of the moderately growing over the forecast period. Adhesives & sealants are used in various surgeries and medical procedures, dental implants and treatments, assembly of medical devices among other uses. They provide natural wound healing and prevent air or liquid leakages during or after the surgeries. Also, post-surgery wounds are sealed with sealants which aid in faster recovery and avoid infection or unnecessary bleeding. Sealants have replaced the staplers and sutures which many a times result into complications later on. Increasing popularity for minimum invasive treatments has led to the rise in adhesives & sealants market globally. However, stringent regulations are expected to hinder the market growth as at each level of manufacturing & processing quality checks are executed by the FDA and other regulatory authorities.
China is the world leader with over 15% share in global adhesive & sealant market and further expected to grow at a CAGR of more than 5% during the forecast period. India is the fastest growing market for adhesives & sealants in the future years owing to booming demands from the consumer DIY, healthcare, automotive and electronics industry. Asia Pacific region's growth can be attributed to economies of China, India and Japan largely. The governments focus to develop smart cities is boosting the demands for adhesives & sealants in various applications. The growing EV vehicles market is furthering the demands in joining and assembly of vehicles to make them lightweight. It is anticipated that the region will hold over 35% market shares globally. The rising populace in the region at an alarming rate demands for food and shelter which drives the construction and packaging industries. The growing popularity of ready to eat and ready to cook food packets further drives the market demand for adhesives & sealants. The need to construct buildings in a cost effective manner and using lesser resources at the same time with smart technology demands for adhesives & sealants application at various stages. The incidences of chronic ailments among Millennial's gives rise to medical procedures and surgeries and most commonly among the old population.
Europe is one of the major markets for adhesives & sealants and expected to grow further at a CAGR of 3.71% during the forecast period. Germany, France & Russia are the main countries with close to 50% market share for the use of adhesives & sealants in various industries. Europe is the hub for most innovative and advanced automotive manufacturers of the world with some of the big giants namely Volkswagen AG (and subsidiaries Audi and Porsche), BMW AG, Daimler AG, Adam Opel AG and Ford-Werke GmbH which is the reason it has high demands from the automotive industry. Machine building is the leading industry in Russia that has almost 30% share to GDP. The most important are electronics, computers, and robotics, instrument building, agricultural and transport machine building, railway cars manufacture, aircraft building, ship building etc. France is recognized as the fourth largest automobile manufacturer in the world and is home to two of the largest automobile manufacturers in the world: Peugeot and Renault. However, with Brexit and the US/China trade disagreements, the future is difficult to predict. Numerous regulations exist in Europe, such as REACH, CLP, and the Biocide Products Regulation. Germany has the largest construction industry in Europe. The government of France is actively investing to recover the construction sector. The government is investing in new projects like Hexagone Ballard, The Majunga Tower which will in turn fuel the demand for adhesives & sealants. Also, the flourishing aerospace industry where lightweight materials are being used to manufacture parts of aircrafts also drives the demand further. Italy has been famous for Italian furniture, footwear and bedding but now they are mainly shifted to China due to cheap labour costs. Italy's market share can be seen declining due to this shift; however it still supplies raw materials to produce these adhesives & sealants to other countries. Hot melt and water based adhesives are expected to be driving the future market with application in the paper & packaging, healthcare and automotive sectors. While polyurethane and acrylic sealants are expected to rise in demand from the growing consumer DIY and large scale applications in construction of buildings and manufacturing of vehicles.

The stringent regulations for adhesives & sealants have arisen the need for bio based adhesives & sealants that are expected to further strengthen the market growth during the forecast period. Silicone sealants are expected to be in great demand and building and construction industry with wide scale application with water based technology dominating. However, the raw material prices are expected to hinder market growth as petrochemicals by-products depends on crude oil pricing. Further regional demand supply gap and volatile currency exchange rates have an adverse effect on the market.
Key market players in adhesives & sealants market are Henkel AG, 3M Inc, Sika AG, H.B. Fuller, Arkema S.A., Huntsman Corporation, Illinois Tool Works Inc., Wacker Chemie AG, DuPont, Pidilite Industries Limited, Avery Dennison Corporation, Dow Inc., Ashland Global Specialty Chemicals Inc. and Others.
Henkel holds the leading position in the adhesive & sealant market globally with 4 Strategic Business Units namely, Automotive and Metals, Packaging and Consumer Goods, Electronics and Industrials, Craftsmen, Construction and Professional. The company has also captured a considerable share in water based adhesive technology with its wide range of offering for water-based adhesive products. It focuses on both organic and inorganic growth to increase its production capacity, sales, and market share. The company's industrial product portfolio is organized into five Technology Cluster Brands - Loctite, Technomelt, Bonderite, Teroson and Aquence. For consumers and craftsmen, there are four global brand platforms Pritt, Loctite, Ceresit and Pattex.