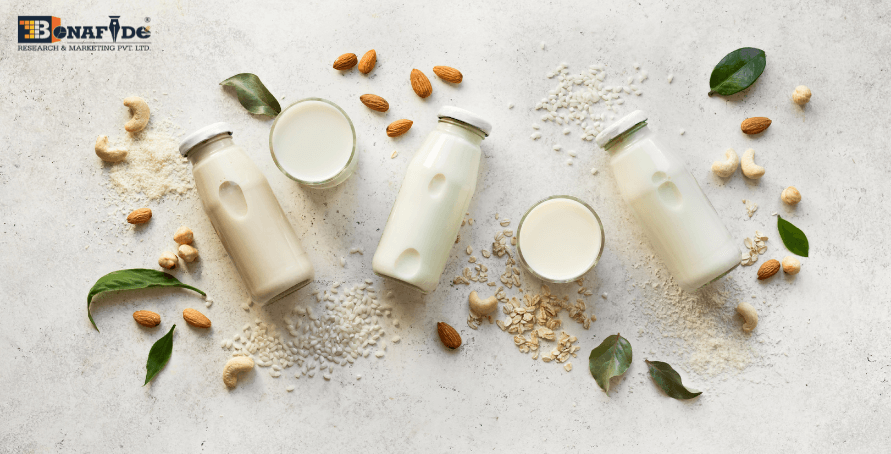 Rising interest among consumers to monitor their dietary intake of animal-based food and food products with a focus on sustainability and environmental concerns is driving the plant-based milk market to expand. The added nutrients like omega-3 fatty acids, proteins and fibres further add to the nutritional content of plant-based milk. The food industry is investing in novel ideas to develop new protein-rich milk that is devoid of any animal origin. This consumer shift can be attributed to its dairy-free and animal-free protein ingredients that are derived from plant sources like soy, almond, rice, coconut or nuts, among others. They provide good nutritional value, taste, texture, and fullness. It is further supported by athletes and young people who adopt vegan diets that exclude food and drinks or any other dairy alternative of animal origin. Furthermore, there are growing concerns about GHG emissions and other pollutants that degrade the environment as a result of animal exploitation. A growing number of young children with lactose intolerance turn to plant-based milk for their daily protein intake. All these factors drive the demand for plant-based milk in the global market.

Plant-based milk has been consumed for centuries by some cultures around the world, but its popularity has increased in recent times. These are used for drinking, cooking, or baking products. Plant-based milk is made from soybeans, almonds, hazelnuts, rice, coconut, oats, cashews, etc. They may be plain or flavoured milk. Plant-based milk is either sweetened or unsweetened in a variety of flavours like strawberry, chocolate, nuts, vanilla, coffee, mocha, hemp, berry and others. These are generally packed and sold in tetra packs as they increase shelf life and keep the flavours intact. Recently, almond milk has gained consumer attention as it is low in cholesterol values and has wide application in frozen desserts and personal care products. Coconut milk adds a good aroma to cooking food and baking products. It is widely used in curries, soups, smoothies, and others. While the thin texture of rice milk is best suited for coffee.

The U.S. is the leading country in the North America region, with almost 85% of the populace consuming plant-based milk. Lactose intolerance, allergies, and the growing vegan food trend are propelling the market. Flexitarian diets have increased millennial's' desire for healthy, protein-rich diets. China, being the leading country in the Asia-Pacific region, has a long-standing tradition of consuming soy and soy products. The demand for plant-based milk in China is increasing with the rapid increase in the population of the country. Large-scale research and development expenditures to develop new protein sources as ingredients will further bolster future demand for plant-based milk. Availability of raw materials like rice, soy and other sources for plant-based milk in Asian countries is further expected to bolster market demands for plant-based milk.

Europeans consume more coffee than any other region globally. The plant-based milk market is expanding in Europe at a rapid pace eliminating cow's milk with soy milk. Soy is generally used for coffee making as the basic ingredient across barista's in Europe. Almond milk has recently gained consumer attention as it considered richer in nutrients. Oat milk is being accepted by consumers with lactose intolerance, milk allergies, gluten allergy and difficulty in digestion. Obesity and rising health focus is driving the demands in European region.

Social media has played a major role in mass educating the millennial's of the plant-based milk products. Endorsed by famous celebrities and key personnel's, consumers gained trust over the quality of these milks. Further, driven by the consumers changing habits and rise in disposable incomes have supported the plant-based milk market globally. However, plant-based milk has disadvantages like a lack of similar taste, texture, and nutrients to dairy milk. These are considered highly processed milk and full of additives, while dairy milk is pasteurized and homogenized. Despite this, many global giants have invested in the plant-based milk market with an array of products to offer. The production process has to be closely guided as to protein amount, nutrient content, flavour, dilution and sterilisation processes, and rapid heating techniques to prevent the formation of caramel compounds in the milk. Plant-based milk would further require fortification with essential vitamins to overcome the nutrients lost during processing. The pandemic impacted positively on the plant-based milk demands, as consumers did not want to consume anything of animal origin.