Adhesives are always underestimated tool in industries in spite of its use at each and every level of work right from minor repairs at home to big industrial fixtures. Rapid urbanization and government support to various industries is fostering the growth of the market in adhesive & sealants market in India. Rising packaging industry with innovations is driving the growth in Chinese markets. Rising demands from the Industrial sector is boosting the demands in South Korea. However, volatile prices of raw materials and the government regulations on VOC emission is expected to restrain the market growth in Asia Pacific region. Indian government has proposed to invest USD 31,650 Billion in building up smart cities across the region which will drive the demand for end use applications in construction industry. Chinese government has introduced Made in China 2025 policy to enable rise in circuit production from 40% to 70% by end of the period. Japan is the second largest consumer of wood adhesives, which are used in the construction and automotive sector, followed by South Korea, Taiwan and India.

According to the research report "Asia Pacific Adhesives & Sealants Market Outlook, 2027" by Bonafide Research, the adhesive & sealants market is expected to cross over USD 25 Billion by the end of the forecast period 2027. China is the global leader and drives the growth of the region significantly in the world markets. Japan & India together make 25% of the market share in the Asia Pacific region. Paper & packaging, Building & construction, Electronics and healthcare form the major users of these adhesives & sealants. The region's growth is anticipated to grow tremendously driven by the consumer DIY end users. Acrylic sealants followed by polyurethane sealants are expected to grow at rapid growth rates during the forecast years. This is mainly due to reduced VOC emissions from these sealants. Automotive and consumer DIY are expected to drive the demand for hot melt adhesives to a significant level. Development of renewable resources as an alternative to petroleum-derived chemicals is expected to act as an opportunity in the future. Water based adhesives have the largest market share in Asia Pacific region with 40%.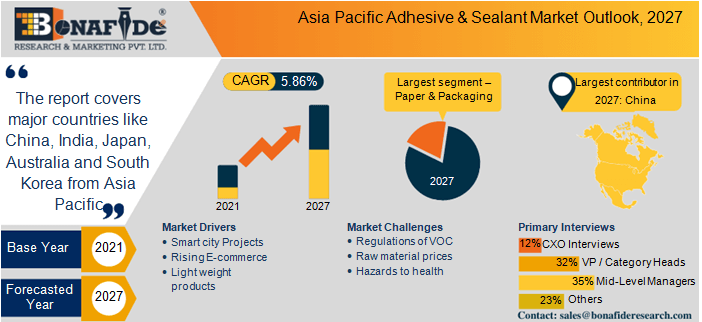 Paper & packaging industry is expected to be dominant during the forecast period in Asia Pacific region driven by the rising demands for packaged food & beverages from the consumers. Its applications include composite containers, tubes, bags, carton side seam and closures, cups, labels, specialty envelopes, foil laminates, films, disposables (non-woven), and corrugated boards. The use of adhesives & sealants makes the packing light weight, increases shelf life, easy to recycle and flexible packaging. The rising ecommerce penetration coupled with rising disposable incomes is driving the growth for ready to eat and ready to cook meals. Also, the food delivery apps like Zomato, Uber eats & Swiggy luring the consumers with discount schemes is further increasing the demands for adhesives & sealants in the region. Adhesive & sealants ensures safe and intact delivery to end users. One of the leading industry specialists Bostik has introduced new technology hot melt adhesive named Kizen for cardboard packaging based on water white technology that gives strong bonding performance. Indian packaging industry is the 5th largest contributing around 25% growth over a year. India is the second largest producer of packaged food & beverages in the world and also major consumer.

Adhesives have over 70% market share in Asia Pacific region used in packaging, construction, transportation and woodworking industries. They can bond together different materials like wood, PVC, fiberglass or aluminium in construction. The assembly of various parts of cars, trucks, trains, aeroplanes uses adhesives that provides enhanced safety as they absorb easily and acts as a buffer. It also improves the vehicle attractiveness and makes them light weight. In the interior oh houses they can be used for sub flooring, bathrooms, kitchen equipment's and others. The woodworking industry has extensive use of adhesives in every cabinet whether commercial or residential furniture. The type and extent of use of these adhesives depend on many variables like type of material used, weight of the item, exposure to moisture and bonding capability. Water based adhesives have highest market share owing to its flexibility, easy applicability that forms powerful bond. Water based adhesives are either pre mixed solutions or dry powders which needs to mixed in water before application. They can be dispersed through spray or roll dispersion with right formulation and viscosity.

Silicone sealants are the most widely used in Asia Pacific region with over 35% market share and further expected to remain as the leading type in forecast period as well. They have countless applications, flexible, stable and quick to use. They can be used on a variety of substrates like aluminium, ceramic, glass, metal, wood, plastic, porcelain, granite and others. The curing time is less than 24 Hours and ideal temperature is 40 to 100 F and humidity levels up from 5%. But the curing time also varies depending upon the thickness of the substrate. These are low on chemical reactivity, emit no VOC's and give out no odour which is why they are most preferred by end users. The most common use to fill the gaps cracks or breaks in a snap of a time. These are water proof and so most suitable for bathroom repairs, seal windows to frames, automobiles, appliances and sealing cables and sensors in electric devices. However the only drawback of silicone sealants is that these are not paintable. Silicone sealants are highly volatile in prices due to raw material price volatility in the market as a result of which other sealants are gaining traction in the market. Polyurethane sealants have gained a good market share replacing the polyvinyl acetate sealants due to VOC emission regulations.

The Pandemic hit the demand and supply chains severely affecting the adhesives & sealants market in the region. The raw materials were not soured in time that delayed production activities across industries. The packaging industry was not affected much during the pandemic as online shopping and ecommerce accelerated. However, the construction of temporary hospitals and quarantine centres increased with this outbreak of coronavirus. Certain adhesive products witnessed strong demand due to their applications in the paper and packaging, as well as healthcare industry. However, dependence of adhesive & sealant on healthcare and packaging sector is expected to lead the adhesives and sealants market to recover soon post the pandemic.

Major Companies present in the market:
Henkel AG, 3m Inc. , Sika AG, H.B. Fuller Company, Arkema S.A., Huntsman Corporation, Illinois Tool Works Inc., Wacker Chemie AG, DuPont De Nemours, Inc., Pidilite Industries Limited, Avery Dennison Corporation, Dow Inc., Ashland Global Specialty Chemicals Inc.

Considered in this report
• Geography: Regional
• Historic Year: 2016
• Base year: 2021
• Estimated year: 2022
• Forecast year: 2027

Aspects covered in this report
• Asia Pacific Adhesive & Sealant market with its value and forecast along with its segments
• Country wise market analysis
• Various drivers and challenges
• On-going trends and developments
• Top profiled companies
• Strategic recommendation

Countries covered in the report
• China
• Japan
• South Korea
• India
• Australia

By Type in the report:
• Adhesive
• Sealant

By Formulating Technology in the report:
• Water-based
• Solvent-based
• Hot-melt
• Reactive & Others

By Resin Type in the report:
• Silicone
• Polyurethane
• Acrylic
• Polyvinyl Acetate
• Other Sealant Product

By Application Type in the report:
• Paper, Board, and Packaging
• Buildings and Construction
• Automotive & Transportation
• Woodworking and Joinery
• Footwear and Leather
• Healthcare
• Electrical and Electronics
• Consumer & DIY
• Other End-user Industries

The approach of the report:
This report consists of a combined approach of primary as well as secondary research. Initially, secondary research was used to get an understanding of the market and listing out the companies that are present in the market. The secondary research consists of third party sources such as press releases, annual report of companies, analysing the government generated reports and databases. After gathering the data from secondary sources primary research was conducted by making telephonic interviews with the leading players about how the market is functioning. Post this we have started doing primary calls to industry people by equally segmenting in regional aspects, tier aspects, age group, and gender. Once we have primary data with us we have started verifying the details obtained from secondary sources.

Intended audience
This report can be useful to industry manufactures, consultants, Key vendors related to Adhesive & Sealant industry. In addition to marketing & presentations, it will also increase competitive knowledge about the industry.