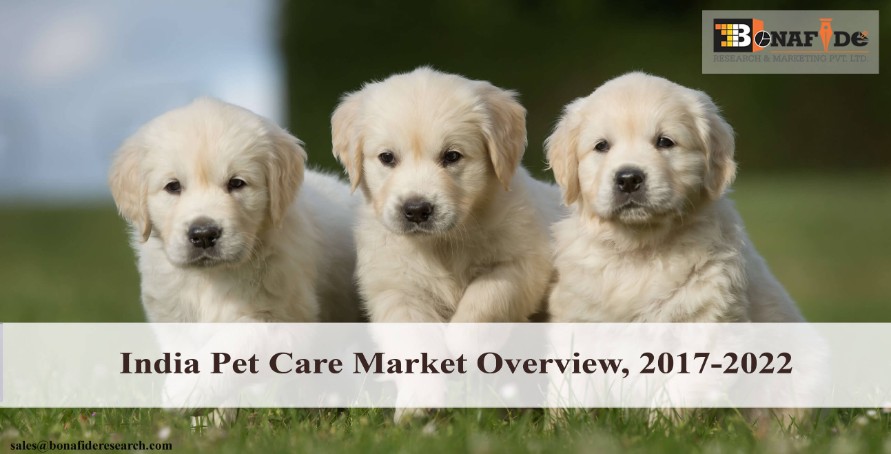 PET CARE INDUSTRY - A new found love of start-ups in India: Bonafide Research
Pet care industry has become the next big thing for start-ups in India, with many pet lovers itching to carve a niche outside of corporate worlds. Young entrepreneurs have converted this industry into a new market ground with their innovations in pet products and services. Home4pet, Tailslife, Heads Up for Tails, Woofbnb, CollarFolk and Dogsee Chew are some of the new competitors in the industry.
According to the recently published report of Bonafide Research, "India Pet Care Market Overview, 2017-2022", the pet care market is expected to grow with a CAGR of more than 20% over next four years. Pet adoptions in India are on a continuous rise with increasing nuclear families, changing lifestyles, urbanisation and need for a companionship. Earlier pets were kept in the house to serve a purpose. However, today the scenario has changed completely with pets considered to be an important part of the family. They are being fed quality food and are being given good healthcare by owners. There is a growing preference for prepared pet food in compared to home-made foods as people are now becoming aware of the fact that pets usually need more protein and calcium than human beings.
PET OWNERSHIP ON RISE
The pet ownership in India has risen exponentially over the past few years. Nuclear families, double income households, urbanisation, lifestyle changes, etc. are some of the factors which are responsible for the growth of pet ownership in the country. Today pets are being looked upon as companions and members of the family. Also, career oriented women's are today marrying late and therefore, there exists a greater propensity among them to own pets for companionship. The one child norm has also led to more families keeping pets. Owners are nowadays very fond of their pets and spend a lot of their earnings on the welfare of their beloved pets. Diet, accessories, health and grooming of pet are on the owners' priority list. This trend has spawned an entire industry.
GROWING NUMBER OF START-UPS
In last few years, there is a consistent rise in the number of start-ups for pet care products. These start ups are in trend and making life of pet owners more convenient.
Nimble Wireless: An IoT company, Nimble Wireless is bringing deep technology to pet care in India. The company raised $1 million from Prime Venture Partners and other investors in early 2015. Its app-based service RVPetSafety helps monitor pet's environmental temperature on the go. The app was developed keeping in mind how sensitive pets can be in temperature above 102o F and below 32o F. The device comes with 12 sensors that together measures parameters like humidity, light, proximity, etc.
Home4pet: Home4pet E-Commerce Private Limited aims to be a one stop e-commerce and service portal for pet owners in India. It sells products that range from pet food, pet grooming, pet toys, accessories, designer clothing and bedding, etc. This Delhi based company also provides services like vets on call (both allopathic and homeopathic), pet lab, pet boarding and lodging, pet taxi, pet ambulance, pet burial services, pet trainers, pet spas, pet cafe, pet photographer, pet security tags, pet rehabilitation and fitness equipment, pet magazines, pet birthday organizers and online pet training courses to pet parents, along with insurance to keep pets secure from all medical contingencies.
Woofbnb: Pune-based Woofbnb is an e-commerce and pet care aggregator. The e-commerce section of this portal sells pet care and grooming products while the aggregator model is for grooming and sitting. A dog-walking service comes with a monthly or yearly subscription for time strapped pet-owning busy professionals. As of now Woofbnb is serving 4,000 clients on demand as well as subscription basis and plan to scale up their operations in other cities like Mumbai, Delhi and Bangalore, soon.
Dogsee Chew: Dogsee Chew is a product of Bangalore based Khanal Foods Private Limited and makes human-grade food for pet dogs. Made of Yak milk and other organic ingredients, manufactured in Sikkim and Darjeeling - Dogsee Chew is also a source of income for the farmers in the region. Once the product is procured from them, the company refines it before packaging and retailing. From nuggets, bars, crunchies and puffies to dog biscuits, Dogsee Chew's diverse portfolio is one of its USPs.
CollarFolk: This Delhi based start-up is an e-commerce platform which facilitates holiday planning and booking for pet owners who are keen on travelling with their furry friends. The company has a pet-friendly taxi service in Delhi NCR. The platform's revenue model is based on income generated from bookings in the form of TAC from resorts and homestays as well as service fees from customized holidays for travellers and pet owners looking for specific experiences. The portal also sells animal-themed merchandise including board games, bottle openers, car stickers, fridge magnets, etc.
Dogspot: Dogspot, founded in 2007, is still India's biggest online platform. Apart from being a marketplace for pet products, Dogspot also promotes pet care content and relevant events for pet owners. The company received an initial seed fund from Vikas Saxena (Global CEO of Nimbuzz), Vaibhav Gadodia, and others. It secured another $500,000 led by India Quotient in 2013. Finally in 2016, the company once again received an undisclosed round of funding from Ratan Tata, Ronnie Screwvala, K Ganesh, India Quotient, and five other existing and new angels.
Heads Up For Tails: Heads Up For Tails, positioned as a luxury brand, was launched in year 2008 by Rashi Narang. The company mainly focuses on premier designer bedding, accessories and apparel for affluent pet lovers and owners. Their products ranges from comfy and customized dog beds, chic collars, leashes and fashionable dog apparels to an exclusive range of accessories. HUFT has more than 500 products on offer.
MAJOR COMPANIES
Major companies operating in the pet care market of India are Mars International India Private Limited, Venky's (India) Limited, Royal Canin India Private Limited, Indian Broiler Group and Provimi Animal Nutrition India Private Limited.
Report: India Pet Care Market Overview, 2017-2022
Base Year: 2016-17, Estimated Year: 2017-18, Forecast Year: 2021-22
Pages: 56, Figures: 28, Tables: 5