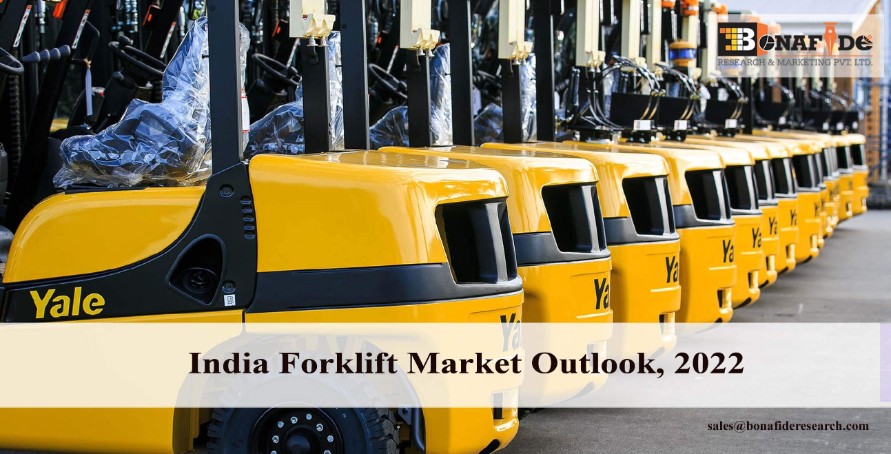 Demand of Electric Forklifts and Rental Services will be major growth Drivers for Forklift Industry in India : Bonafide Research
Forklift trucks are gaining traction in India due to the implementation of various advanced technologies and their growing application across different industries. Going forward, the market has huge potential for both diesel and electric forklift equipments. However, the industry is now moving towards cleaner trends as the end users are shifting towards battery operated forklift trucks due to their environmental friendliness.
Forklift market have wide acceptance in industries to handle material movement from one place to another place. The advent of essential investment in the sectors like retail, e-commerce, manufacturing, warehousing and logistics has fuelled the demand for forklifts in material handling. In India, light duty forklifts with the load capacity of 1 ton to 3 ton are dominating the sales volume as there have been many SME companies operating in the country. Players in forklift industry are offering products with focus on operator comfort, safety and ultimate productivity in mind. Products are designed to be more reliable, efficient and service friendly. Currently, AC drive forklifts are becoming popular as they reduce the maintenance and increase the up time. Almost all the industrial segments including automobile, chemical, fertilizer, pharma, glass, steel, Ferro-alloys rubber etc. are extensively using forklifts equipments for their material handling needs. Indian forklift users are now aware of the need for technology and safety in material handling as compared to the previous days of labour. Industries are giving more preference to Indian forklift brands over expensive foreign brands. There is a preference towards palletisation and containerisation.
According to recently published report of Bonafide Research "India Forklift Market Outlook, 2022", sales volume of forklifts was growing with a CAGR of more than 15% from the last four years. The industry has shown a healthy growth as large consumers are purchasing new forklifts whereas small and medium manufacturing companies are bending towards rental service market and innovative products like electric forklifts. Compared to the global rental business, the rental business in India is growing at a snail's pace and majority of this business is controlled by the unorganised sector. Rental service is one of the promising markets in material handling industry where unorganised players provide forklift on rent for small project clients and government assignments. Global players operating in the country have also taken a note of Indian needs and started providing rental services with bunch of value added service.
Manufacturers handle heavier loads inside the manufacturing units/warehouse through use of forklifts. A new series of electric forklifts are in demand to deliver speed and power almost at the level of diesel forklifts. Thus, industry is moving towards cleaner trends as clients are gradually shifting towards electric forklifts instead of diesel forklift and others. Environment friendly trucks would handle loads up to 5 tonnes without creating pollution. The engine powering the counterbalance machines comply with Euro III norms and battery forklifts are zero emission products. Electrically driven forklifts are expected to create huge demand in the logistics industry wherein major operations are indoors. They will take predominance over the CNG and LPG driven forklifts for the simple reason of environmental compliance. As pollution control norms are getting stringent, diesel forklift will be slowly replaced by electric forklifts. Going forward, the forklift market will gradually moves towards electric version and eventually the diesel forklifts will remain in the outdoor applications only. However, diesel forklift trucks are expected to remain dominant till 2022 due to heavy load movements in ports and warehouses.
Major companies operating in the forklift market of India are Godrej & Boyce Manufacturing Company Limited, Toyota Material Handling India Private limited, Action Construction Equipment Limited, MHE Next Engineering Private Limited, Josts Engineering Company Limited, Kion India Private Limited (Voltas), Macneill Engineering Limited, Nilkamal Limited, Maini Materials Movement Private Limited and Hyundai Construction Equipment India Private Limited.