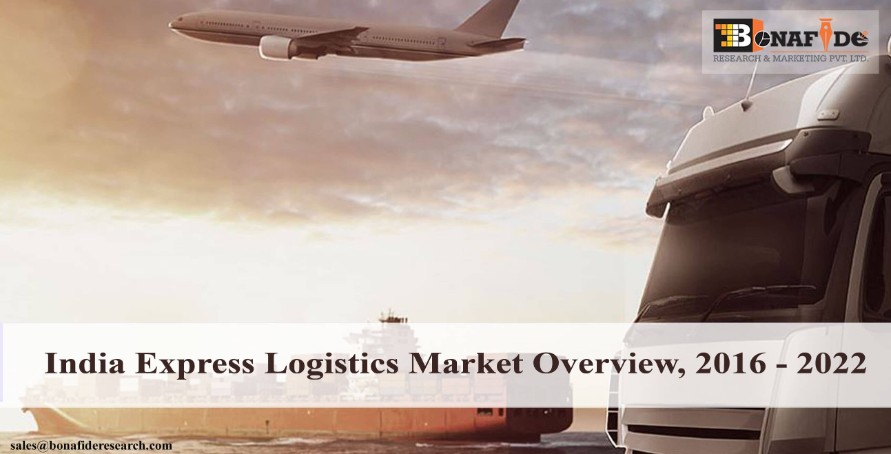 Government initiative in Infra structure growth in Building Rail & Dedicated freight corridor & Bharatmala project will accelerate the growth of Express Logistics: Bonafide Research
Growing prominence of the marketplace model and the increasing penetration of E-commerce are likely to alter the way e-commerce logistics functions in India: Bonafide Research

The logistics needs of the e-commerce industry are evolving rapidly with the changing business requirements in the country. The industry has been witnessing a rapid scale up in service orientation and complexity with an ever increasing emphasis on service levels.

The rising relevance of tier-II and tier-III cities necessitates a wider network presence of logistics in India. Tier-II and tier-III cities are now the most targeted areas of the e-commerce industry. The big e-commerce portals have fully captured the tier-I market, leaving no space for small or new start ups to enter. Hence for future growth opportunities, new players have especially focused into tier-II and tier-III cities to step outside the existing market and target the other potential and untapped markets. More than 50 percent of the e-commerce business now comes from the tier-II and tier-III cities. Increase in disposable income of the potential consumers in these markets has led to the rise in the people directing toward this medium.

According to recently published report of Bonafide Research 'India E-Commerce Logistics Market Overview, 2016-2022", e-commerce logistics market has crossed a revenue mark of Rs. 5,000 crore in FY 2016-17. This increased demand of e-commerce is due to the radical shift witnessed in the consumption patterns of tier-II, tier-III and smaller towns. Consumers from these cities now prefer to buy products from various online portals. These towns are also witnessing a subsequent change in people's perception and their culture. Such changes in smaller towns have proven to be crucial for e-commerce portals and their LSPs to have a proper and a faster delivery mechanism in these cities. By accepting this changing lifestyle and perception of consumers, e-commerce logistics service providers are also partnering with Hyperlocal delivery networks and local logistics companies. E-commerce companies themselves are planning or coming up with their own captive logistics arms to meet the demand and supply of the goods and services they wish to deliver. More and more e-commerce biggies are following the suit as these tier-II and tier-III towns are turning out to be a major force behind the growth of online retail market in India. E-commerce logistics companies are trying to invest for more expansions in smaller towns as starting an operation in smaller town cost relatively more than starting one in the metros.

Logistics service providers will need to develop fulfilment capabilities to gain access to this small but growing market of offline retailers moving online. They need to go beyond the traditional express delivery model to a higher level in the value chain like managing inventory, handling invoicing, providing consumer insights and other value added services.
Companies in this report are divided into three sections: Gati Limited, Blue Dart Express Limited and FedEx Express Transportation & Supply Chain Services (India) Pvt. Ltd. are major traditional logistics service providers in India. Major companies in e-commerce focused logistics service provider include Delhivery Private Limited and Ecom Express Private Limited whereas Instakart Services Private Limited - Ekart and Pigeon Express Private limited - GoJavas are major captive logistics arms in India.

Report: India E-Commerce Logistics Market Overview, 2016-2022
Base Year: 2015-16
Estimated Year: 2016-17, Forecast Year: 2021-22
Pages: 72, Figures: 20, Tables: 8


India's Express Logistics Market is poised for accelerated growth. Government initiative in infrastructure growth and GST implementation has ramp up the demand of express Logistics. Government projects like "Bharatmala pariyojana" will increase road connectivity for better transportation. Express Logistics market has shown huge potential in last few years. It's having rapid growth & huge demand in upcoming years due to implementation of GST and Government initiative in infrastructure development in logistics & Shipping. Express Logistics, is a key segment of Logistics industry. Businesses need express logistics services tuned to such requirements for reaching out to the customers within tight timelines, delivering products, spare parts, samples, contract letters etc. By creating an integrated chain including multi-modal transport modes, both air and surface, express industry has fine-tuned the logistics process for time bound deliveries of shipments across domestic and international regions. According to recently published reports of Bonafide Research "India Express Logistics Market Overview 2016-2022", Express industry is a premium segment of the logistics industry. It providing logistics services for movement of time sensitive shipment. In express logistics industry services includes end to end logistics solution, one-stop solution, time bound service, tracking and delivery confirmation, global reach, premium pricing. The express industry is a small and niche segment but the level of integration and ability to delivery within short timelines is amongst the highest in the industry.

The express logistics has a large number of players and the intensity of the competition is high for the industry in general though the industry leaders with ability to differentiate on service quality and network are in a relatively better position. Government has taken initiative to promote the manufacturing sector and infrastructure development to increase the demand of logistics functions. Major investment by public and private sectors in last five years on infrastructure, technology upgrades and expansion of sea and airport facilities, and dedicated logistics corridor in the rail network are expected to strengthen the Indian logistics infrastructure. The booming e-commerce market in India is bringing in new opportunities for LSPs. GST implementation has change the taxation structure nationwide and will transform the distribution structure of majority of industries as it eliminates the need for dedicated warehouses for each individual administrative region. The ministry of road transport and highways has undertaken development of about 7000 Km of national highways under "Bharatmala pariyojana" at an estimated cost of 80,000 crore.

Ministry of Railway has introduces implementation of Eastern Dedicated freight corridors (EDFC) and Western Dedicated Freight corridor (WDFC) with freight train speeds of maximum 100 KMPH. The Proposed GST regime and e-commerce will alter the landscape in warehousing, supply chain management and third party logistics business. GST implementation will be a game changing event for business and particularly for organised logistics players. The growth of the industry will be driven by the current major customer segments, auto components, banking & finance, garments, pharmaceutical, IT hardware and mobile phones. In addition, new segment new segments like organized retail, e-commerce and others are expected to emerge as major customer segments in the medium term. Major companies operates in Express Logistics Market of India are, Gati Limited, FedEx transportation and supply chain private limited, Safexpress limited, Blue Dart private limited, Transportation corporation of India, First flight private limited, SpotOn Logistics private limited, TVS logistics Limited, Mahindra logistics Limited etc.