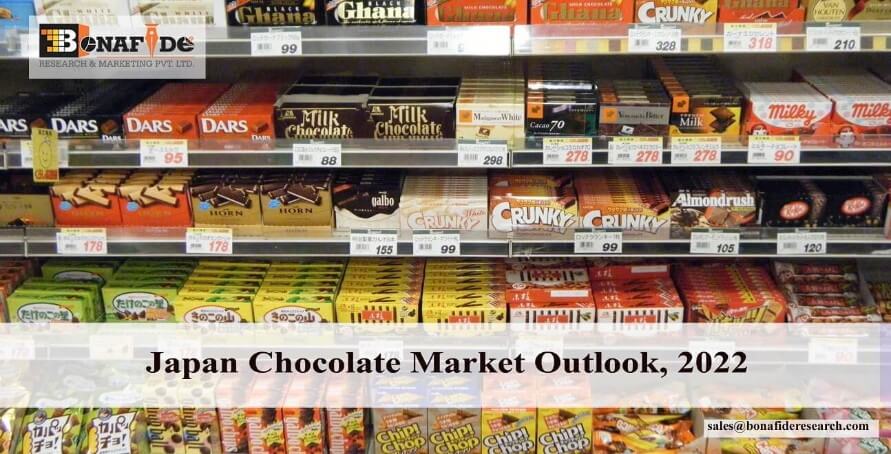 Seasonal chocolates remained a top shot for Japanese chocolate market over the last five years: Bonafide Research
Seasonal chocolates remained a top shot for Japanese chocolate market over the last five years: Bonafide Research
With the gift-giving traditions surrounding chocolate confectionery so deeply ingrained, manufacturers have found it easy to market their high-end luxurious chocolate products to Japanese consumers. More and more consumers are taking chocolate as a luxury, rather than as a food. Seasonal chocolates, which are usually launched around some holidays or occasions in Japan, possess a high-end gift like characteristic. Japanese consumers buy these products at a much higher price to reciprocate to gifts on occasions such as Valentine's Day and White Day.

The confectionery market of Japan can be majorly divided into three sectors viz. sugar confectionery, chocolate confectionery, gum and others. Chocolate is the most popular confectionery sector in Japan, followed closely by sugar confectionery whereas gum remains a small market. Japan consumes the most chocolate in Asia-Pacific region and has a per capita consumption of above 2 kg per person per annum. Following the awareness of cocoa's potential health benefits, Japanese consumers have become increasingly interested in high-quality chocolate products which generally carry a higher price tag. High disposable income of consumers, their love for quality products and deeply embedded gifting culture is driving the demand for premium confectionery products in Japan.

According to recently published report of Bonafide Research, "Japan Chocolate Market Outlook 2022", the chocolate market is divided into categories like boxed assortment, seasonal chocolate, tablet, bagged self-lines/soft-lines and chocolate countlines. Among all the categories, seasonal chocolate market grew with the highest CAGR of 7.76% over last five years. Valentine's Day is one prominent occasion in Japan which contributes to majority of sales revenue in seasonal chocolate market. While most countries celebrate Valentine's Day as one special day where generally one partner is designated to be more romantic and surprise the other, Japan has taken a new approach. In the country of reciprocal relationships that emphasize 'give and take', there are not one, but two days in which Japanese celebrate love and chocolate.

Japanese women traditionally purchases chocolate gifts for men on Valentine's Day. As a counterpart, 'White Day' (March 14th) was created in the country as an occasion when men are encouraged to buy white chocolate for women. Valentine chocolate gifting in Japan even comes with its own custom rules and several categories for women to choose from. Apart from the more luxurious honmei (true love) chocolate, the cheaper giri (obligation) chocolate goes to work colleagues. In a further attempt to heighten sales, retailers have also introduced tomo (friendship) chocolate which is been given to female friends. Besides, in recent years, manufacturers have tried to enlarge the targeted audience by marketing gyaku (reverse) chocolates which reverts the gift-giving gesture back to men. Retailers also offer ingredients and kits for consumers to make their own customized offerings, which normally belongs to the honmei-choco category.

In the weeks leading up to Valentine's Day, all the supermarkets, hypermarkets and department stores nationwide set up seasonal chocolate sections that are flooded with women in search of the perfect sweet gift. Due to such phenomenon of seasonal chocolates in the country, domestic manufacturers and exporters both are interested in this category. Domestic players are facing fierce competition as an increasing number of well-known chocolate companies from Europe and around the world are vying for share in this lucrative market. The European brands already dominate the honmei category. They even have a range of White Day options as return gifts, which is expected to be reciprocated at a higher value. Major companies operating in the chocolate market of Japan are Meiji Holdings Co., Ltd., Lotte Confectionery Co., Ltd., Morinaga & Co., Ltd., Nestle Japan Co., Ltd. and Ezaki Glico Co., Ltd.