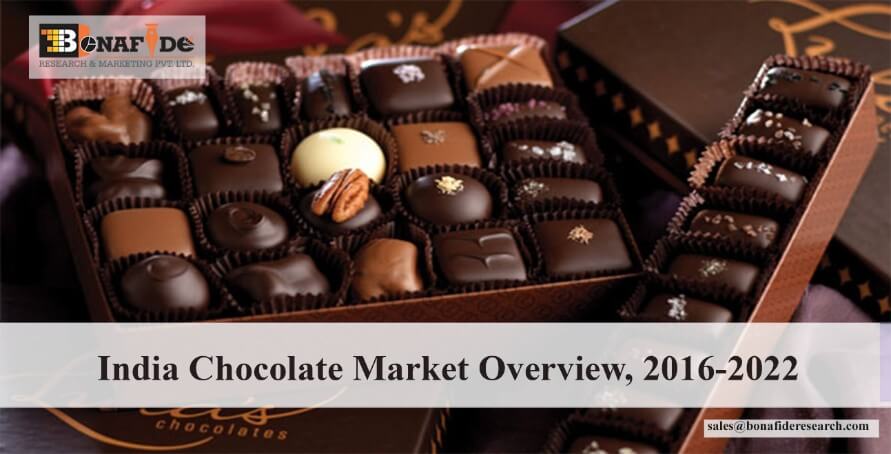 Growing health consciousness is making Indian urban consumers more incline towards dark and sugar free chocolates: Bonafide Research
Growth of the chocolate industry over the last few years has been driven in large part by rising awareness of the health benefits of certain types of chocolates, especially dark. Dark chocolate is rich in antioxidants, which are believed to prevent or delay certain types of diseases, including cardiac disease. These perceived health benefits have been driving strong growth for chocolates with heavier cocoa weighting. India is no exception. Due to evolving preferences of urban Indian consumers, they are demanding more and dark chocolate products. Dark chocolate is expected to be the fastest growing product type in India.
Chocolate is one of the most popular and widely consumed products in the world. It is typically a sweet product with ingredients like cocoa, milk and sugar. Chocolate is broadly classified by the amount of cocoa it contains. It is segmented into three major types' viz. milk chocolate, white chocolate and dark chocolate. In India, much of the chocolate consumed is in the form of milk chocolate which contains little cocoa. A chocolate is considered 'dark' if it has more amount of cocoa, as much as 60%. As it contains more cocoa, dark chocolate contains polyphenol, a powerful type of antioxidant that helps to defend the body's cells against free radicals from environmental toxins and diseases, including heart disease, cancer, and chronic inflammation.
According to recently published report of Bonafide Research, "India Chocolate Market Overview, 2016-2022", a latest trend that has set its foot in the Indian market is the increasing demand for dark and sugar free chocolates. Dark chocolate market of the country is anticipated to grow with more than 24% CAGR in the next five years. Manufacturers are introducing new products with antioxidant claims, low/no/reduced Transfat & calorie, diabetic claims etc. suggesting that the prospects for market growth in this segment is very positive. Market also has calorie-conscious customized handmade chocolates, which are guaranteed high on taste and low on calories for the people who are calorie conscious. Less cholesterol and calories than traditional Indian sweets is becoming the reason behind consumer's attraction towards such types of chocolates as more and more people are turning health conscious in the country. The chocolate industry is evolving in the sense that more people are becoming smarter eaters.
Urban and metro consumers are the prime target group as they are more aware about the health benefits of any product. As far as dark chocolate is concerned, it is consumed on the ground of low sugar levels as diabetes is one of the most talked about diseases in India. With the country having the highest number of diabetic patients in the world, the sugar disease poses an enormous health problem to Indians. Often known as the diabetes capital of the world, India has been witnessing an alarming rise in incidence of diabetes according to the International Journal of Diabetes in Developing Countries. According to a World Health Organization (WHO) fact sheet on diabetes, an estimated 3.4 million deaths are caused due to high blood sugar. Awareness of diabetes has increased in the past few years with even doctors recommending regular consumption of dark chocolates.
Health trends usually tend to shy away from the sugary sweet, but rising health awareness is bringing customers back to chocolates, especially dark one. The health benefits offered by dark chocolate's high cocoa content are expected to drive the market segment significantly in coming years. Even though milk chocolate will still remain popular in India for the next few years, the trend toward health and wellness will have a positive impact. Major challenge which this segment poses is the rising price of cocoa, its main ingredient. High cost of raw materials and unstable economic conditions in cocoa-producing nations hampers the growth of dark chocolate. Cocoa prices are soaring for several reasons, but one in particular is growing demand for darker chocolate.
Major companies operating in the chocolate market of India are Mondelez India Foods Pvt. Ltd., Nestle India Limited, Ferrero India Pvt. Ltd., Mars International India Pvt. Ltd. and Gujarat Cooperative Milk Marketing Federation Ltd.