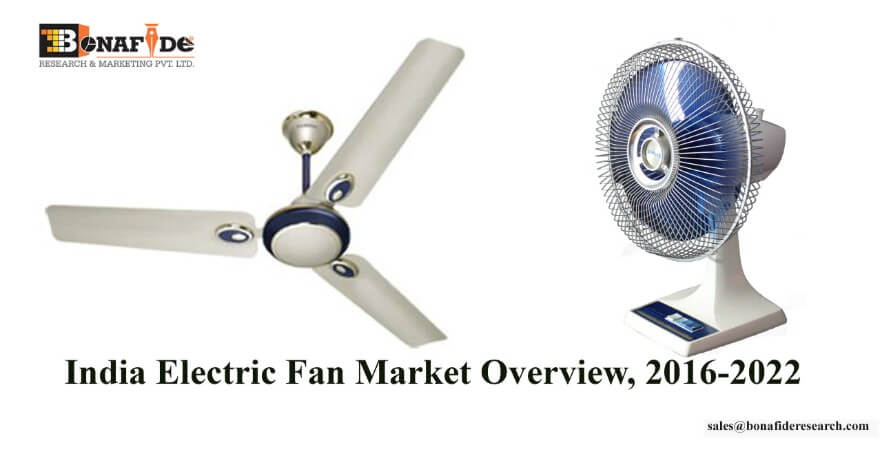 Branded fans have grown to capture more than 80% of revenues in the electric fan industry of India: Bonafide Research
There is a shift in Indian consumer's mindset from low priced cheap/local electric fans to branded ones. One of the major opportunities through this changing mindset is conversion of sales from unorganized sector. Organized players are taking advantage of this by ensuring consumer satisfaction and are not only providing good quality but also backing it up with good after sales service.
There are four major types of electric fans in the Indian market namely ceiling fans, table fans, pedestal fans and wall fans. Currently, ceiling fans dominates the market both in organized as well as unorganized sector. Due to low entry barriers and less innovation, there are a host of unorganized players in the industry. However, organized players have managed to cover more than 80% of the electric fan industry in terms of market revenues. Generally, other cooling options like an air cooler or air conditioner cost more and consume more electricity. On the other hand, the branded fans cost very less as compared to them which makes fan a very affordable option. Thus, pricing has been the primary reason for the popularity of fans in India. Fans are one of the electrical appliances which have now become almost indispensable in Indian homes. There are a wide variety of fans to choose from, from simple finishes to decorative, four blades to three blades, high air delivery to low noise. The fan industry is well-established in the country and has grown significantly over the years.
According to recently published report of Bonafide Research "India Electric Fan Market Overview, 2016-2022", branded electric fans has captured more than 80% of revenues in the domestic electric fan industry. Over the years, organized players have faced tough competition from the unorganized ones as they have resorted to selling sub-quality fans at cheaper prices due to non-existence of excise duty. Excise duty on fans has also been on the rise restricting the growth of the organized fan industry. However, changing mindset of Indian consumers, affordable pricing of branded fans, aggressive promotions, after sales services and strong distribution networks has helped organized players to gain competitive advantage over local brands. Moreover, local fans consume about 20 watts more electricity than the branded ones which is also a reason of changing consumer preferences. Crompton Greaves, Usha, Orient, Havells, Bajaj and Khaitan are the leading players in the organized electric fan industry of India. Crompton Greaves is at the top position whereas Bajaj and Usha are the most preferred brands among consumers due to their better service and brand recall, especially in rural areas. These national players have strong distribution networks for their different products.
Players now enjoys considerable portion of their sales through organized retail chain in the country. Companies are widening their modern trade market network to penetrate with better space. Online platforms like Snapdeal, Flipkart, Amazon, etc. are also being explored by the organized players to increase the visibility of their brands in the market. Promotional strategy of organized players is also giving them competitive advantage over local brands. It is important to create high aided brand recall strategy for fans in the minds of the consumer and hence television has been chosen as the main media for aggressive promotions. The cable and satellite penetration in the metro, Class I and Class II markets is very high. It was therefore strategized to shift from the traditional way of promoting fans in print media to TV advertising through major channels like Star, Sony and Zee.
Major companies operating in the electric fan market of India are Crompton Greaves Ltd., Usha International Ltd., Orient Electric Limited, Havells India Limited and Bajaj Electricals Limited.