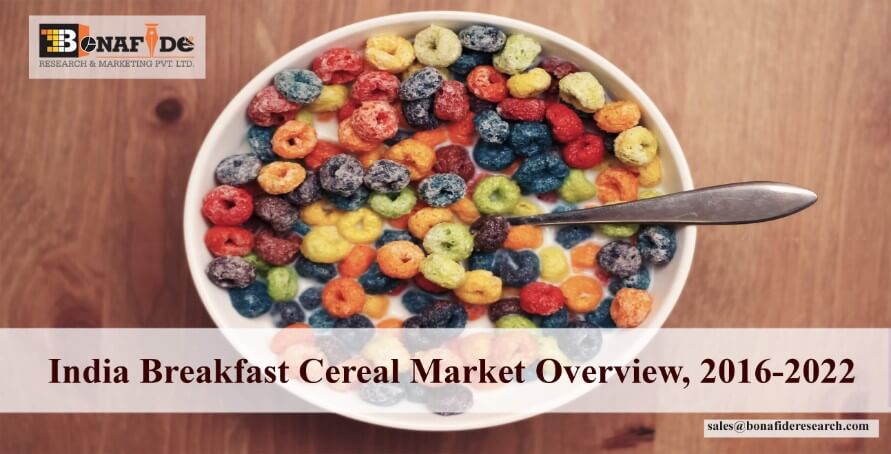 Breakfast cereal makers turning towards Asia-Pacific to offset the lackluster sales of North America and Europe: Bonafide Research
The Asia Pacific market for breakfast cereals is witnessing a dramatic rise in demand owing to increasing prevalence of the modern, hectic lifestyle and shift towards healthier breakfast alternatives. The region is experiencing a rapid rate of growth for convenience stores which in turn has increased the brand visibility of multiple products, including breakfast cereals. Combining this with the growing number of individuals and families with a larger disposable income, global companies are expanding their business in this region and looking for new opportunities.
Consumers have been switching away from traditional breakfast towards more practical and portable products, such as biscuits, cereal/porridge pots, yoghurt, etc. Breakfast was traditionally a sit-down meal in most markets, but is now often eaten hurriedly or on the go in the form of snack bars or ready to eat breakfast cereals. Increasing adoption of the western lifestyle all over the world is the prime driver for the breakfast cereal market globally. The industry is categorized into ready-to-eat (RTE) breakfast cereals and hot cereals. The preparation time in the ready-to-eat cereals is almost nil, while on the other hand, hot cereals require time to get cooked before they can be consumed.
According to recently published report of Bonafide Research "India Breakfast Cereal Market Overview, 2016-2022", Asia-pacific market is anticipated to grow with more than 6% CAGR in the next five years. Cereal sales in North America and Europe, by far the biggest market of the global business, have been sluggish form several years. Cereal makers are now making the overseas push to offset the lackluster sales of North America and parts of Europe as consumers increasingly avoid sugar-laden breakfasts in favor of alternative options like yogurt, snack bars and cereal bars. All the big giants have been ramping up sales in developing countries of Asia-Pacific like China, India, Indonesia, etc. The region is growing in importance to cereal makers as more residents in APAC countries move to cities and have less time and inclination to make traditional warm breakfasts.
The changing lifestyle of the population in APAC countries, owing to longer working hours and demanding jobs, do not leave enough time for preparing fresh meals on a persistent basis, especially on weekdays. Thus the consumption of food products that do not require longer durations for preparation and can be consumed on-the-go is witnessing huge rise. Moreover, as the middle classes emerge, especially in China and India, consumers have more disposable income and want more variety in their food. However, product innovation is vital in order to tap into different cultural expectations and consumer habits of APAC regions. For instance, in Thailand, Cereal Partners Worldwide (a joint venture between Nestlé and General Mills), sells a single-serve packet of cereal that comes with a paper bowl and plastic spoon because that is the way consumers are used to eating a rice-based breakfast. Similarly in India, Kellogg's and PepsiCo introduced offerings with traditional flavors such as unsweetened mango, savoury pongal, masala, green pudina, etc. as Indian consumers usually prefer spicy food.
Major companies operating in the breakfast cereal market of India are Kellogg India Pvt. Ltd., PepsiCo India Holdings Pvt. Ltd., Bagrrys India Limited, Marico Limited, GlaxoSmithKline Consumer Healthcare Ltd., Nestle India Limited, Patanjali Ayurved Limited, Mohan Meakin Limited, Express Foods Pvt. Ltd. and Future Consumer Enterprise Ltd.