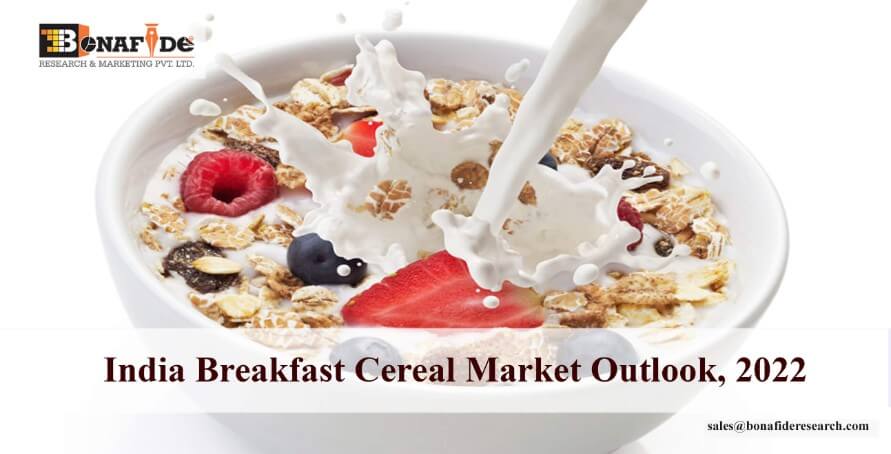 Oats category anticipated to overtake cornflakes by 2022 in the breakfast cereal market of India: Bonafide Research
Entry of well-known players, demand for health food in metros cities and multiple health benefits associated with oats has made this category the most attractive one. Flavored oats have opened the doors of opportunities for the industry players. In the morning rush hour, breakfast solutions that offer health benefits along with such taste and variety have become a big draw with the rising numbers of working women, who are devoted to being perfect homemakers too. Although oats is still a small category in India, it has overtaken the popularity of cornflakes.
Oats are a grain which is considered as a whole food, meaning that they are not processed or made from some other substance. Whole oats are used to feed livestock, whereas oats that humans consume are cleaned, toasted and hulled. When oats have gone through the process of cleaning, toasting and hulling, they are called oat groats. From there, oat groats may become rolled oats, quick-cooking oats, instant oats, steel-cut oats or oat flour. Oats are an excellent source of carbohydrate, protein and dietary fibre; they contain beta-glucan soluble fibre which even helps to reduce cholesterol. The Indian oats story started as early as in 2006 when Quaker launched its plain oats in the market.
According to recently published report of Bonafide Research "India Breakfast Cereal Market Outlook, 2022", the oats market is anticipated to grow with more than 20% CAGR in the next five years whereas the cornflakes market is likely to register slow growth. Indians prefer hot breakfast and as oats are usually cooked by boiling them in milk, the category satisfies the traditional need of Indians. Oats have already emerged as an attractive breakfast option in the group of health conscious consumers living in metros and big cities. Health benefits of oats are perhaps the biggest reason that their adoption grew in India over past couple of years. It has now become a trend among urban and semi-urban literate consumers to scrutinize for the packaged food ingredients and look for healthy food, after the Maggie ban hit the market. Quaker Oats, which entered India in 2006, has first mover advantage and thus holds a dominating position. It was only through Quaker's launch that oats began to be viewed as something more than just horse feed, at least in the bigger cities and metros.
Owing to the brand's success and escalating demand, other players like Marico, Nestle, Kellogg's and GSK Consumer too launched their own oats under their well-known brands. More recently, Patanjali and Future Group have also entered the segment by launching their products. In no other category have so many famous players and brands entered the Indian foods market in such a short period of time. The battle of oats, which was in its early stage, has now become a full fledged competitive market with multiple brands fighting to strengthen their position in the market. Majority of the oats consumers buy plain oats primarily because it is recommended to them by their doctors or friends as a healthy breakfast option. However, flavored/savoury oats have become increasingly popular in last two years and will drive the growth in future as they are performing better than sweet oats. There are a host of sweet breakfast cereal alternatives in the cornflakes and muesli segment; thus oats getting Indian flavor has lured customers to try them more often.
Oats with masala, chinese or tomato flavors are highly popular and make consumers more open to trying since they would come with assured taste. Taste is clearly a window of opportunity for marketers to introduce new recipes, interesting mixes and different flavors. Given the inherent health benefits of oats, tastier options will surely be a winning mix. Thus, flavored variants definitely have ample opportunities to penetrate deeper into the Indian market. Initially, southern part of India showed high volume sales in the oats category but now players have also started expanding nationally. According to Anita Patil - Sr. Research Analyst at Bonafide Research, "Small pack sizes of Rs. 10 and Rs. 15 positioned on supermarket shelves have gained great attention from consumers, especially among young adults. Such offerings will increase the penetration of oats as a category in India. New entrants and new launches will also help the market to grow."
Major companies operating in the breakfast cereal market of India are Kellogg India Pvt. Ltd., PepsiCo India Holdings Pvt. Ltd., Bagrrys India Limited, Marico Limited, GlaxoSmithKline Consumer Healthcare Ltd., Nestle India Limited, Patanjali Ayurved Limited, Mohan Meakin Limited, Express Foods Pvt. Ltd. and Future Consumer Enterprise Ltd.