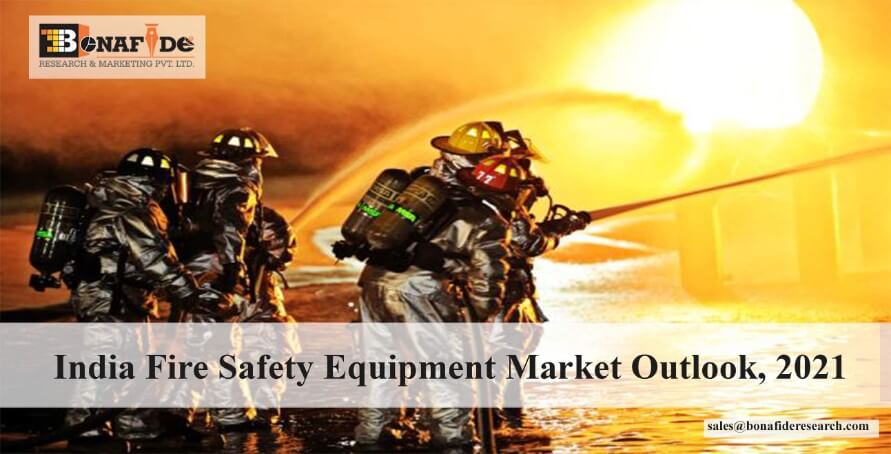 India fire safety equipment market is set to witness robust value growth through 2021, due to rising demand from developing infrastructure across the country: Bonafide Research
Fear of fire incidences across India positively influences the fire safety equipment market in India: Bonafide Research
Rapid urbanization, increasing presence of congested areas, high risk of fire small warehouses and factories, and rising fire accidents across the industrial areas have enhanced the demand growth of the India fire safety equipment market.

According to recently published report of Bonafide Research "India Fire Safety Equipment Market Outlook, 2021", the fire safety equipment market is anticipated to register the CAGR of 19.2% during the forecast period. The risk of fire in congested areas, warehouses and industrial sector is high. The increased scale of urbanization operations is matched by the increased level of multi-dimensional fire risks. This leads to requirement for fire safety equipments in each and every manufacturing unit, residential and commercial buildings.

Fire accidents kill 50 people daily in India. On 11th November, 2016, a massive fire broke out at a garment factory in Ghaziabad's Sahibabad, in which 13 people are feared dead and three have been injured. The fire occurred because of short circuit triggered at a garment unit, which was running illegally from a residential area of Ghaziabad. The garment unit did not contain even single fire safety equipment.

As many as 121,325 accidental fires injured 13,721 people over the past five years. According to NCRB, a total of 20,377 cases of fire accidents were reported in the country during 2014 which rendered 19,513 deaths and injuries to 1,889 persons. The cause-wise analysis of fire accidents revealed that 18.3% of 20,377 fire accidents were reported in residential/dwelling buildings. In 10 States/UTs, 50.0% or more cases of fire accidents were reported in residential buildings or dwelling, these States/UTs were A & N Island(100%), Puducherry (81.8%), Meghalaya (69.2%), Punjab(58.7%), Jammu & Kashmir(56.3%), Kerala (52.9%) and Arunachal Pradesh, Mizoram, Chandigarh & D & N Haveli (50.0% each). Fire losses are reported both in industrial and non-industrial premises like hospitals, commercial complexes, educational institutions, assembly halls, hotels, residential buildings, etc. However, fire accidents have declined by around 40% between 2010 and 2014.

According to the market research report, fire extinguisher market is expanding with the CAGR of 19.6% during the analysis. The increased adoption of fire extinguishers in warehouses, manufacturing plant, residential buildings, etc owing the fear of fire and loss of properties has fueled the growth of fire extinguisher market in India. The strict government regulation to install fire extinguisher in commercial and residential sector has enhanced the demand for fire extinguishers.
Major manufacturers include Nitin Fire Protection Industries Limited, Tyco Fire And Security India Private Limited, UTC Fire and Security India Limited, Safex Fire Services Limited, and Ceasefire Industries Limited.