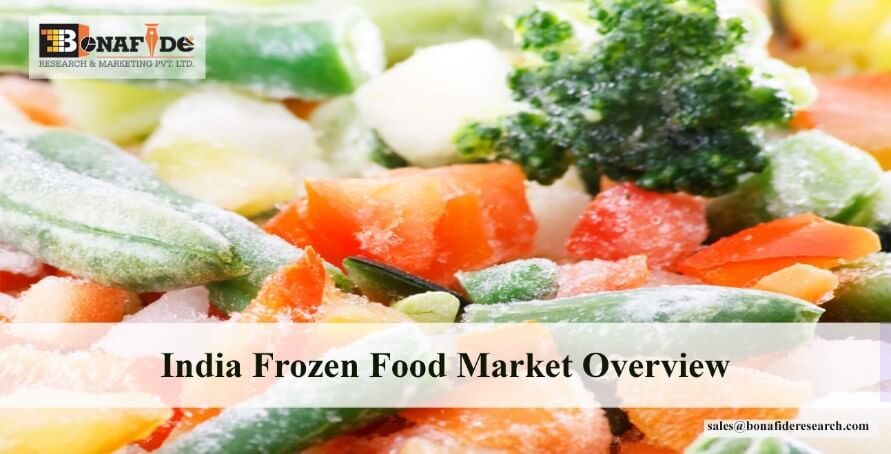 Proactive initiatives taken by frozen food brands to ensure awareness will lead to a dramatic transformation in India: Bonafide Research
In the last few years, the lifestyle of Indian consumers has gone through a dramatic transformation shifting towards convenience food products, thus leading to growth in the consumption of frozen food products. As a result of this transformation, domestic market is witnessing a boom in frozen food segment with new product launches, introduction of new product categories and entry of new domestic and international players. Initiatives taken by these established and new players are leading towards product and brand awareness.
India is a large producer of food and is offering different opportunities and business propositions in food processing categories. The food based industries encompass canning, dairy and food processing, speciality processing, packaging, frozen food and thermo-processing. The frozen food market is segregated into six segments viz. frozen vegetables, frozen snacks, frozen seafood, frozen poultry, frozen red meat and others. Frozen snacks and vegetables are the largest category whereas frozen poultry, seafood and red meat are still at nascent stages. With growing popularity of non-vegetarian products, these categories will also grow in future.
According to recently published report of Bonafide Research "India Frozen Food Market Overview", frozen food market is growing by more than 19% CAGR over last five years. Rapid urbanization, increased awareness, changing lifestyle, growing number of working women and rising disposable income is leading to rapid growth and new opportunities in frozen food industry. Customers want variety while simultaneously maintaining hygiene along with quick and efficient food service standards. Hence the food service players have also started using frozen foods that can be easily customized to suit the new Indian palate without spending much time and are available throughout the year.
The domestic frozen food market is heavily dominated by organized players as unorganized players don't have sufficient resources for cold chain facilities. The key brands operating in the market are McCain, Venky's, Al-Kabeer, Sumeru, Meatzza, Yummiez etc. Joining the brigade, players like Mother's Recipe has recently entered into the Indian market. Global players like Tyson are also actively participating in the domestic market through joint venture with Godrej. Godrej Tyson produces frozen food products in India under brand name 'Yummiez'. Darshan Foods, which has brand Meatzza for chicken salami, chicken tandoori, and chicken fingers, have spread its product portfolio by adding chicken patty, burgers, hot dogs and much more. An effort from these brands is creating awareness among Indian consumers which in turn is increasing penetration. Penetration of frozen food is rising from the deep-freezer displays at retail stores into home refrigerators and this is an outcome of the positive initiatives taken by brands to ensure usage of their products.
Mother Dairy, which is a leading player in frozen vegetables, was concentrating solely on this category until recently. But now the brand has added snack offerings to its product portfolio to compete in the segment dominated by McCain. Mother Dairy is also conducting in-home kitty parties to reach out to women's in various regions. Similarly, the McCain Foods organizes McCain Nights with several residents' welfare associations, where the brand offers free product sample in various cities. The company organizes numerous customer awareness programs while also going for celebrity endorsement. Godrej Tyson Foods also undertakes several consumer awareness programs through consumer touch points in order to educate consumers on how their products can be used directly. Other players in this frozen food market like Vadilal, Mother's Recipe, Maiya Group, ITC, etc. are test-marketing and building capacities at both the front and back ends. Industry players with product innovation, delivery capability and willingness to invest in branding will benefit the most from this growth and will capture an envious share in growing frozen food market.
Major companies operating in the frozen food market of India are Al Kabeer Exports Private Limited, Mother Dairy Fruit & Vegetable Pvt. Ltd., Venky's (India) Limited, Innovative Foods Limited and Godrej Tyson Foods Ltd.