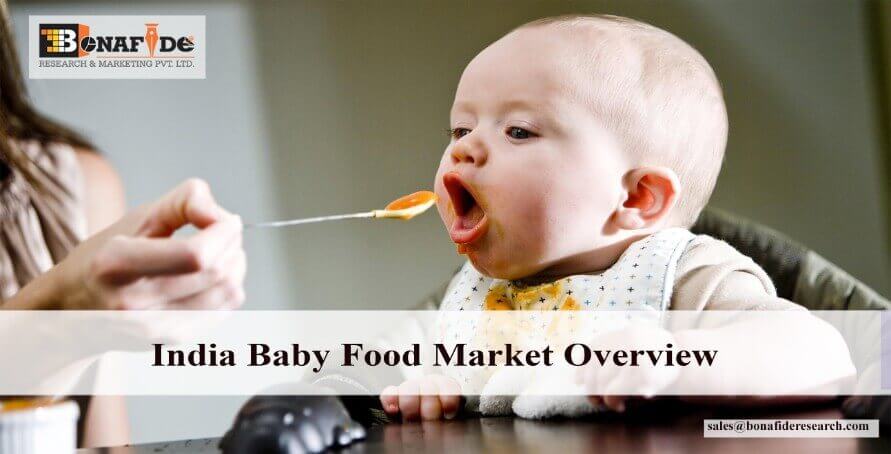 Increased nutritional awareness among Indian parents will spur the demand for healthy and organic baby food products: Bonafide Research
Rising parental concerns regarding the fulfilment of vitamins and nutrients at the growing stage of their babies is forcing Indian parents to move from homemade baby food to the commercial packed products available in the market. Also, increase in number of educated young mothers is supporting this growth trend heavily.
The Indian baby food market is one of the fastest growing segments in FMCG today. As a matter of fact, baby food has not yet grown into its full potential as, traditionally, Indians believe in feeding homemade food and women have the advantage of raising their kids by the extended family members. The type of packaged baby food varies according to ingredients, formula, and flavours, proportion of nutrition and vitamins, and packaging. Globally, the market is divided into organic and non-organic baby food product segments. In India, the baby food market consists of infant milk formula, follow-up formula, baby cereal and prepared baby food products. All these products are greatly accessible in leading baby shops, departmental stores, modern & general retail stores and even in pharmacy retail chains. Baby food market in India has experienced growth over the past few years due to changing consumer mindset and growing concerns regarding the proper nutrition in babies' food.
According to recently published report of Bonafide Research "India Baby Food Market Overview", the demand for organic baby food products is growing with the increase in awareness about the health benefits coupled with rising parental concerns. The emerging concern for improving child's meal quality, consciousness for greener products and awareness about the availability of safer food products is expected to fuel the market for organic baby food in years to come. Organic products are free from the concerns like unsafe ingredients, bad consequences and bad quality. The sale of baby food products completely depends on the women's purchasing decision and it is very tough to convince Indian women regarding the safety of commercial packed baby food products. This has proved to be a positive point for organic products in India as the purpose of quality gets fully served, which in turn automatically convinces mothers.
Organic baby food market in India is highly untapped and under-penetrated along with a few number of players operating in it. Pristine Organics and British Life Sciences are among some of the companies who sell organic baby food in the country. On the other hand, non-organic baby food market is also highly organized with multinationals such Nestle India, GCMMF (Amul), Abbott Nutrition, Nutricia, Raptakos, Amul, Mead Johnson, Babyvita, Manna Foods, etc. operating in India. Nestle India continued to leverage the popularity of its leading brands such as Cerelac, Lactogen, Nan, Nestum and Nestogen. However, the company is losing its share due to increasing number of players and brands in the market space. Consumers are increasingly becoming health conscious and looking for natural, minimally-processed foods, and the stakes are even higher when it comes to their babies. More parents are seeking foods that set their children up for a healthy life even if it comes at a premium price. Hence, this niche segment is expected to grow with more parents affording to trade up.
Major companies operating in the baby food market of India are Nestle India Limited, Abbott India Limited, Manna Foods Pvt. Ltd., Danone Nutricia India and Gujarat Co-operative Milk Marketing Federation Ltd.