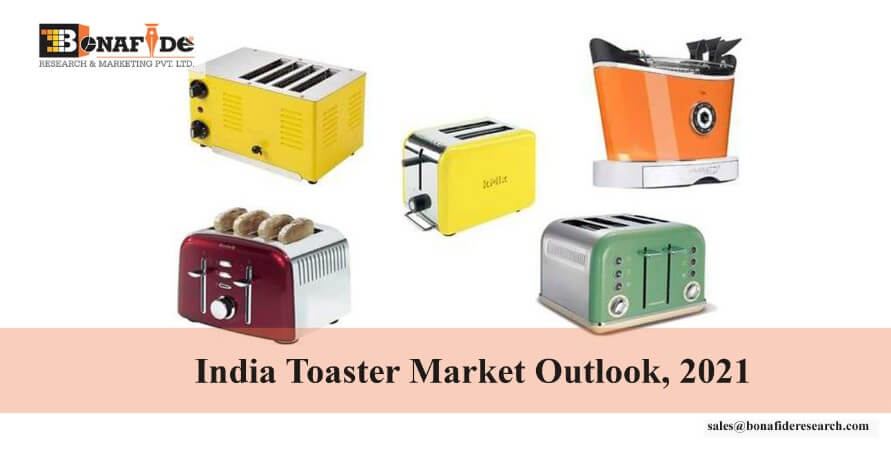 Indians have gradually started to shift towards toasters for healthy breakfast: Bonafide Research
There have been striking changes in India's consumption pattern over the past few years owing to the ever-increasing media exposure, changes in lifestyle, growing urbanization, coupled with an increase in the education levels among others. This change in pattern has been driving the demand for toasters in the country.
Nowadays, there are different types of modern kitchen appliances that have been created in the market. Among those appliances, toasters are giving an option to prepare faster breakfast and make it healthy at the same time. Toasters are typically a small electric kitchen appliance designed to toast multiple types of bread. Normal or age old toasters are of economically low prices whereas pop up toasters are more advanced, used to maintain the taste and crunch of the bread. Toasters vary from the old fashioned two sliced toasters to even the one that toasts four to six bread slices. However, there are certain toasters which have now become a complex appliance that require performing a variety of functions.
According to recently published report of Bonafide Research "India Toaster Market Outlook, 2021", the market volumes for toaster were growing with a CAGR of 6.04% over last five years. Toasters market which was once dominated by only 2 brands and regional/local players is witnessing the entry of new players as well as consolidation of existing ones. Distribution networks are being ramped up to reach consumers even in the smallest of cities. The general trade in India is highly unorganized in many cities. However now the Indian general trade has matured gradually over the last few years, and has become more process-driven, standardized, quality assured, and brand-driven. Toasters have different features and these features increase interests of those who have geared up to buy an ultra-modern kitchen appliance for their kitchen. Indian market is complex because of the diverse levels of income of the people. Moreover, a wide rural and urban divide creates a challenge in front of toaster manufacturing companies for establishing effective distribution network. Given the huge diversity of people and challenges related to distribution, the international companies need to adapt to the local market conditions in order to attract the customers towards their brands.
Toasters may not make the top of the list for consumers who are looking at the purchases of appliance for cooking operations. Earlier toasters came in white as that was generally the colour of the kitchen. However, today people can get toaster in many colours and are equipped with advanced features as well for various kinds of toasting. While traditionally toasters were made to simply brown a piece of bread, nowadays people are looking for products that can provide more than just one single function.
Even though toaster is a small kitchen appliance, it plays a major role to prepare breakfast quickly and also scrumptiously. Nowadays Indians are aware about using toaster and thus they can prepare a wide variety of recipes for their breakfast. There are many toasters in the market having different shapes, sizes, and colours, with all sorts of functions and unexpected features. Some models can usually toast two to four slices of bread at a time; large models can handle up to six slices. They have variable darkness settings and may have a push lever system. The toaster continues to be modified according to new technology.
Major companies operating in the toaster market of India are Bajaj Electricals Limited, Philips India Limited, TTK Prestige Limited, Usha International Limited, Havells India Limited, Kitchen Appliances India Limited, Groupe SEB India Pvt. Ltd., Jaipan Industries Ltd., Crompton Greaves Consumer Electricals Ltd. and John Oster Manufacturing Company.