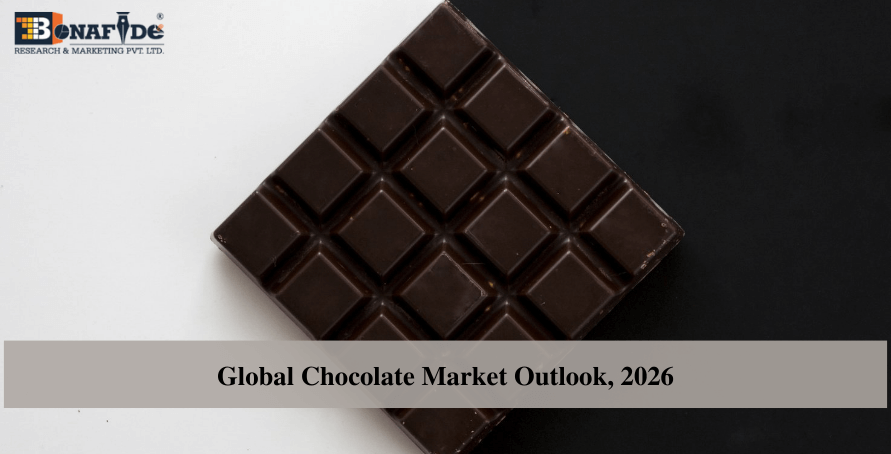 Chocolate is an unavoidable eatable by any person. Over the years, chocolate has become more of a staple thing in anyone's diet, rather than a luxury item. Anyone can buy it, at any point of the time, anywhere. Switzerland has the highest chocolate consumption of 8.8kg per capita globally. Ingredients of chocolate act as a mood changer, which is why it is preferred in any situation. The main ingredient of chocolate is cocoa beans. They are produced in tropical zones near the Equator, where climatic conditions best suit the growth of cocoa trees. About 70 percent of the world's cocoa beans come from African countries.

According to the report "Global Chocolate Market Outlook, 2026" published by Bonafide Research, the market is expected to cross the industry size of USD 169 Billion by 2026. Through the analysis of the report, we can conclude that Europe is the prominent revenue-generating market, along with the United States & Germany. Switzerland is the largest exporter of chocolate as well as the largest consumer and revenue generator. The global chocolate market is a combination of forms like milk chocolate, dark chocolate & white chocolate. The growing health awareness has led to changing habit of consumers to shift from milk chocolates to dark chocolate and is expected to show a growth of CAGR of above 7.10% by 2026.

The global consumption of chocolates has still plenty of areas to expand relative to many illustrious regions. Out of all regions, the European market poses as the prominent market, while the United States and Germany are the largest revenue generator and Switzerland is the largest chocolate exporters. The advertising and branding activities have played an important role in changing the perception of customers from viewing chocolate as just a kid's dessert to a premium gifting option.

The demand for chocolates is highly influenced by annual festivals and specific days wherein consumers gift them to their loved ones. Especially box chocolates are in high demand. Small size chocolate is an emerging trend in the chocolate market globally. Premium quality chocolates wrapped in attractive packages are considered as a better substitute for regular gifts. Several festivals are being observed globally such as Easter, Christmas, Diwali, Holi, etc. Such occasions help the marketers to market the products accordingly and allure the consumers with perfectly timed discounts.

Marketers have developed strong reliable distribution networks on different channels online and offline, which allows them to make their products available to the customers. They also tend to spend a good fortune of money on advertising & promotional activities that ensure a quick recalling to the customers while an impulsive buying of chocolate. Eye-catchy packing, ease availability, and pocket-friendly prices are a few of the important factors that are to drive the chocolate market globally in the coming years.