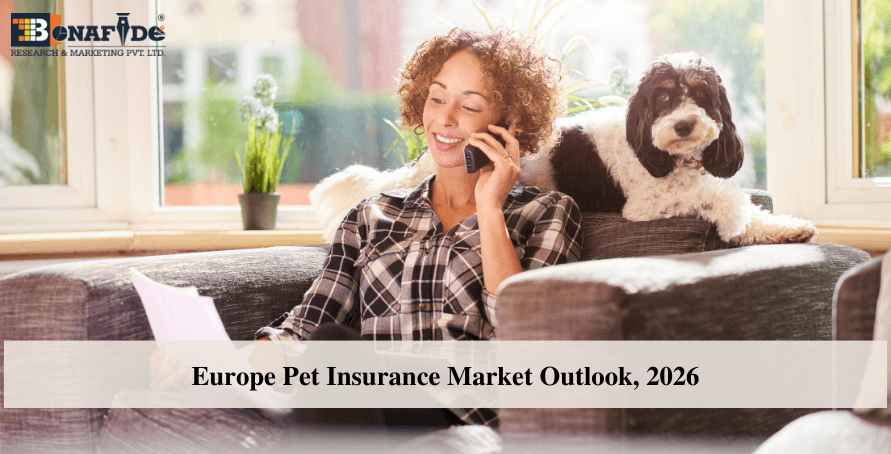 Pet owners are more likely to accept pet medical insurance when it is brought to their attention by their veterinarian, so client education is the key in the European region. Lack of availability and broader awareness are commonly cited as reasons for low penetration rates in the general markets. What might be more surprising to hear than that the pet insurance products have been widely available in markets for decades in Europe! The first product to hit the UK market was introduced four years before the first US product. The research report titled Europe Pet Insurance Market Outlook, 2026 by Bonafide Research categorizes the market to forecast the revenues and analyze the trends in each of the following segments: based animal type, by insurance type, by the end-user, based on countries & major companies.
Pet insurance was first introduced in 1976 by a specialty, monoline insurance provider. This first of its kind focused on accident & illness coverage which still dominates the market with a share of more than 90% till 2020. This not only covered the congenital & hereditary conditions but also offered unlimited coverage throughout the pet's life. The concept of lifetime coverage was watered down, accident-only coverage and wellness options became more prevalent, and many products came in and out of the market, creating distrust among the pet owner and the veterinary community. Veterinarian acceptance was high, with much of the pet owner education happening within veterinary hospitals. Invoices were paid and veterinary treatment plans were never questioned. The real-time connection to the veterinary community and specialist approach ensured the product continued to evolve and keep up with medical advancements and available treatment options. The adoption across the region was slow, but steady, taking nearly a decade to reach one percent penetration. In just over two pet generations, one in four pet owners had a policy for their pets. The practice of medical insurance in veterinary practices was normalized; with clinics universally asking for the pets' insurer upon check-in.
Britain is known as a nation of animal lovers. This is just as well since the bills for looking after domestic pets can be breathtakingly expensive. The penetration rates are particularly interesting against the backdrop of the universal health care system. In the UK, health care is a universal right, granted at no cost to its citizens. With the limited practice of paying for human healthcare coverage, one could argue purchasing a policy for a pet would be an even more abstract practice. And yet, pet insurance has been widely adopted for decades.
Undoubtedly, industry tailwinds are positive. Rising household pet ownership and pet humanization are helping drive higher spending per pet. Owners increasingly view pets as part of the family and are willing to spend increasingly larger dollar amounts on higher-quality goods and services for these family members. In total, healthcare spending represents a growing portion of the pet owner's wallet. As the growth of the European pet insurance market accelerated and demand increased, so too did the supply of products. Large players entered the space, adding even more credibility to a burgeoning category. Adoption and awareness accelerated, the specialist pet insurance provider sector grew, and pet owners prioritized brand reputation and pet health understanding in their decision-making process.