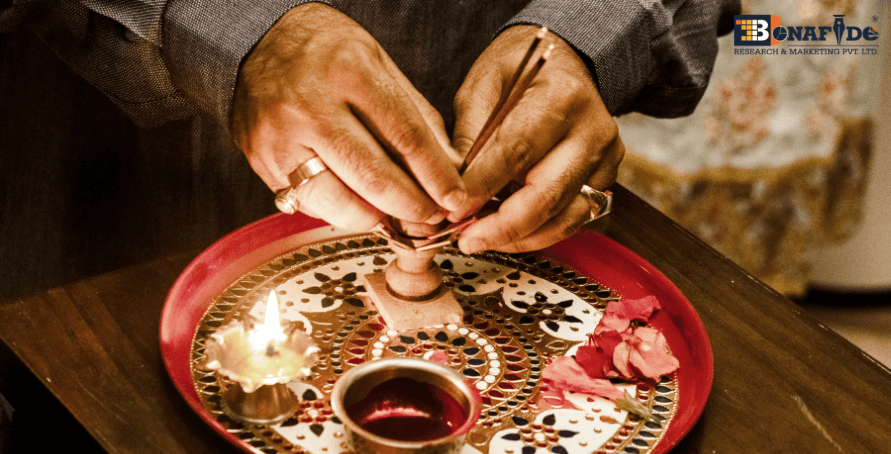 The top players such as ITC and N. Ranga Rao &Sons havecome up with several innovative ideas such as mobile apps, dedicated websites and created various tie-ups in order to boost their sales.
According to the report 'India Incense Sticks (Agarbatti & Dhoop) Market Overview, 2018-2023' published by Bonafide Research,the market has observed a double-digit growth rate since last five years and is forecasted to reach market size by volume of more than 34000 sticks in 2022-23. The sales are high in the rural regions owing to the fact that rural people are more religious compared to urban people and they consistently perform various puja and rituals. The consumption of agarbatti and dhoop is forecasted to increase owing to urbanization and various other reasons. In fragrances Jasmin and Mogra observe high market share compared to other fragrances, while the growth of new fragrances has led to growth of market in term of variants.
India exports large quantities of agarbatti and dhoop to more than 90 countries of the world. Despite being more expensive compared to others, Indian agarbatti are widely consumed in foreign countries and are believed to be of superior quality. The highest amount of agarbatti and dhoop are exported to U.A.E. where people prefer more of the strong fragrances such as Oudh and Orientals. While U.S.A is the second biggest market of Indian Agarbatti and Dhoop.
The top players in India agarbatti and dhoop market are taking a step further rather than traditional sales method to boost their sales. The market leader N. Ranga Rao & Sons having wide range of brands and variants has came up with online sales portal, mobile apps, dedicated websites for increasing awareness and as a one stop solution for arrangements regarding puja and other rituals. It has a dedicated sales website cycle.in for selling all puja related product and air fresheners, while it has also launched mobile app where one can find all the details related to a specific puja and its requirements, while its website purepuja.com offers one stop solution to book purohit, astrologer, buy puja kits at one go and also provided videos, song/slokas and recipes of prasad and other food. While ITC also has a mobile app, which contains various videos and audios which guides about various puja and has slokas for each puja. While ITC has reached a tie up with various temples like Vaishno Devi for use of Mangaldeep agarbatti and dhoop sticks in 'puja thalis' to boost their sales.
Major Companies
Major companies that operate into Indian Agarbatti and Dhoop market are N. Ranga Rao & Sons Private Limited, Moksh Agarbattis, ITC Limited, Mysore Deep Perfumery House (MDPH), Shree Kalpana Perfumery Works Private Limited, Hari Darshan Sevashram Private Limited, B. V. Aswathiah & Bros, Hem Corporation Private Limited, Patanjali Ayurved Limited
Report: India Incense Sticks (Agarbatti & Dhoop) Market Overview, 2018-2023
Base Year: 2016-17, Estimated Year: 2017-18, Forecast Year: 2022-23
Pages: 60, Figures: 22, Tables: 11.